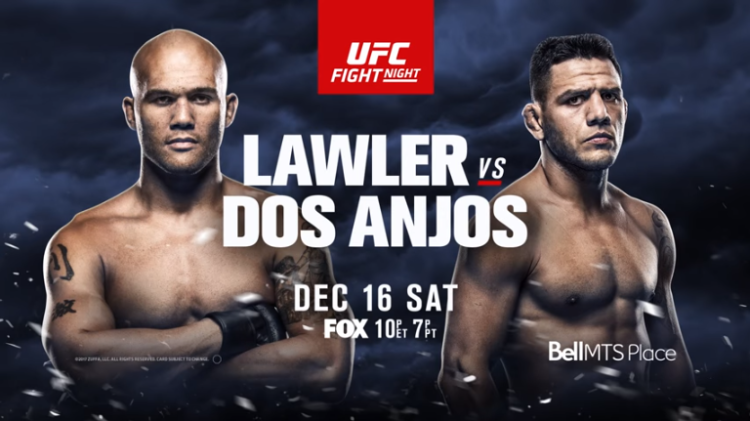 Event: UFC on Fox 26
Promotion: UFC
Date: December 16th, 2017
Arena: Bell MTS Place
Broadcast: Fox Sports 1
The UFC is back to keep you entertained for the holiday season with UFC on Fox 26 that has a pivotal welterweight match as the main event with Robbie Lawler taking on Rafael dos Anjos. Whoever wins between Lawler and dos Anjos probably will be the next number one contender in the welterweight division. Lawler got back on track after defeating Donald Cerrone earlier this year and will look to get back to get another shot at the champ Woodley who defeated him for the belt. Rafael dos Anjos looks and feels reborn at welterweight after he defeated Neil Magny by submission. It's a huge match up between Lawler and dos Anjos and one has to wonder does Lawler find his way back? Does dos Anjos submit his claim in the welterweight division? We will find out come Saturday night. The co-headliner was suppose to be Ricardo Lamas versus Jose Aldo but that was scrapped after Aldo faced Holloway on short notice at UFC 218. Now, Lamas will take on Josh Emmett who gets a huge opportunity to step in and face the third ranked featherweight Lamas. It's a no lose situation for Emmett because you can't expect him to step in and defeat Lamas on such a short notice but it's fighting and anything can happen. The card has several strong match ups and most of the fights will have you on the edge of your seat the whole night.
For 2017 we are 23-10 after Anders and Ramos were able to get the job done. Anders was the better fighter that night with more strikes landed along with some submission attempts that were close to getting sealed. Ramos displayed some very high level jiu-jitsu against Gruetzemacher the whole fight and was able to finally sink in a RNC in the 3rd round. Our ROI is 6% with a total investment of $124 and winning a total amount of $6.67.
Ricardo Lamas vs Josh Emmett
For this card I will be taking Ricardo Lamas at -255 (bet $255 to win $100) Lamas is a very significant step up in competition for Emmett and Emmett is taking this fight on short notice as well. If you look at who Lamas has only lost to it's the cream of the crop in the featherweight division. I just can't see Lamas losing here he is the better fighter who has also faced way better competition as well. Lamas has finished his opponents 4 out of his last 6 fights and I expect the same here by TKO most likely.
Prediction: Lamas to win
Stake: 5%
Please remember, while we give out one free prediction for every card, the real money to be made is through the BOC Consulting services. For serious investor only, you may as well want to invest in the world's premier combat sports managed fund right here in order to diversify your personal investment portfolio. I also invite you to join the one and only combat sports betting community and register a free account so you can get access to our chat room and connect and interact with each other to discuss upcoming match-ups, odds, betting tips, predicitons, news, post fights and follow your favorite handicapping experts on the new social network for combat sports gamers. This means you can follow your mates and top ranked bettors, providing a very cool way to get authentic betting tips to improve your real money bets. We are a community of over 1,000 bettors that is dedicated towards helping each other make money from betting on fights. Start posting your picks, gain followers, build your reputation. For some of you new to the betting world check our betting guide to learn how to bet on fights and our bookmakers review page for the best places to wager online.
Enjoy the event!