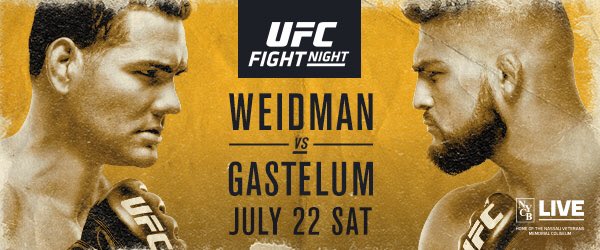 Event: UFC on Fox 25
Promotion: UFC
Date: July 22nd, 2017
Venue: Nassau Coliseum
Broadcast: Fox Sports 1
The UFC makes a return trip to New York, but this time it's in Long Island. In the main event we have native New Yorker Chris Weidman taking on Kelvin Gastelum. Weidman is on a three fight losing streak and will look to break it as his back is against the wall here after losing to Rockhold, Mousasi, and Romero. Gastelum is coming off a knockout win over Vitor Belfort but it got got overturned after he failed a post fight drug test in which he tested for Marijuana. You'll find out how real Gastelum is at middleweight if he can beat Weidman in New York, this is the first big test for Gastelum at middleweight so we shall see where he goes from here. The co-main event features Darren Elkins versus Dennis Bermudez. Elkins has won four fights in a row and is riding pretty high at the moment. Bermudez is coming off a loss against Chad Sung Jung and will look to make a statement here and get back in the win column. This will be the biggest win in Elkins career if he can find a way to beat the ever so tough Bermudez. Jimmie Rivera will take on Thomas Almeida in a huge bantamweight showdown to see who will be the next contender at bantamweight. A intriguing match-up to watch as well is Gian Villante against Patrick Cummings. Villante gets to fight in his back yard as Cummings will come into enemy territory, should be a exciting light heavyweight fight.
For 2017 we are 11-7 after Jack Marshman and Brett Johns were able to get the job done. Marshman struggled with the size of Janes a bit but was able to keep finding ways inside and land some shots and he was determined to get the job done. Johns wrestling proved too much for Morales. Johns is such a great wrestler it's great to watch him fight and wrestle. Our ROI is now 36%, with a total investment of $2,981 and winning a total amount of $1,100.
Jeremy Kennedy vs Kyle Bochniak
For this weekend I've decided to make a straight bet on Jeremy Kennedy at -230 odds (bet $230 to win $100) in this fight I see Kennedy wearing on Bochniak too much especially as the fight goes on. Bochniak has shown issues with conditioning and Kennedy will relentlessly always put the pressure on. The wrestling for Kennedy is key here and I see him using it effectively through out the fight to win.
Prediction: Kennedy to win
Stake: 3%
Please remember, while we give out one free prediction for every cards, the real money to be made is through the BOC Consulting services. For seriouse investor only, you may as well want to invest in the world's premier combat sports managed fund right here in order to diversify your personal investment portfolio. I also invite you to join the one and only combat sports betting community and register a free account so you can get access to our chatroom and connect and interact with each other to discuss upcoming match-ups, odds, betting tips, predicitons, news, post fights and follow your favorite handicapping experts on the new social network for combat sports gamers. This means you can follow your mates and top ranked bettors, providing a very cool way to get authentic betting tips to improve your real money bets. We are a community of over 1,000 bettors that is dedicated towards helping each other make money from betting on fights. Start posting your picks, gain followers, build your reputation. For some of you new to the betting world check our betting guide to learn how to bet on fights and our bookmakers review page for the best places to wager online.
Enjoy the event!