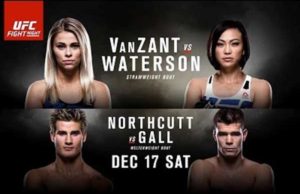 Event: UFC on Fox 22
Promotion: UFC
Date: December 17th, 2016
Arena: Golden 1 Center
City: Sacramento, CA
Broadcast: Fox Sports 1
The UFC is on the way to Sacramento, CA for what will be the first time in a new arena. Past events were held at the Sleep Train Arena. Paige Van Zant will headline the event vs Michelle Waterson. Sage Northcutt will face Mickey Gall in the co-main event and Urijah Faber will make his last walk to the octagon in a match vs Brad Pickett. I don't know I agree PVZ and Waterson should be a headliner but it is what it is I guess and the event is in Sacramento where Paige trains and lives so I see why. Gall has completely chose who he wants to fight and has chose it wisely because he's not gonna call out anyone at the moment that he doesn't think he can beat, it's smart to build up a brand so I get why he called out Northcutt. He won't be calling out a top guy just yet. Faber finally chooses to retire and it seems the right move as he is older and he really has nothing left to prove. Other notable guys to watch is Covington vs Barberena, this fight should be exciting or really lame at the same time. If you want fireworks you can expect this with Jouban vs Perry. I can't wait for this fight because you know both guys can strike and will look to finish. Should be interesting the card and it shouldn't let us down.
A total of 35 free predictions have been made since January 2016, with a record of 28-7 which is 80% accuracy.
Urijah Faber vs Brad Pickett
Colby Covington vs Bryan Barberena
I will be doing a 2 man parlay of Faber and Covington at -171 odds (bet $171 to win $100) The Faber fight is a fight to make him go out on a high note. Faber is really hard to finish and Pickett has been known to be submitted, Pickett has been submitted 5 times before and I think Faber has the right style and skills to beat Pickett and go out on a high note. Covington is a bad matchup for Barberena stylistically and I totally expect him to grind away at Barberena and coast to a victory. Is Barberena really gonna win as a underdog 3 times in a row meh I don't think so, especially against a guy who is not a good matchup for him.
Prediction: Faber and Covington Parlay
Stake: 3%
Please remember, while we give out one free prediction for every cards, the real money to be made is through the BOC Consulting services. To get official access to our exclusive bets become a Bet on Combat member today http://www.betoncombat.com/accounts/signup/ is where you can sign up. For some of you new to the betting world check our betting guide to learn how to bet on fights and our bookmakers review page for the best places to wager online. Enjoy the event!