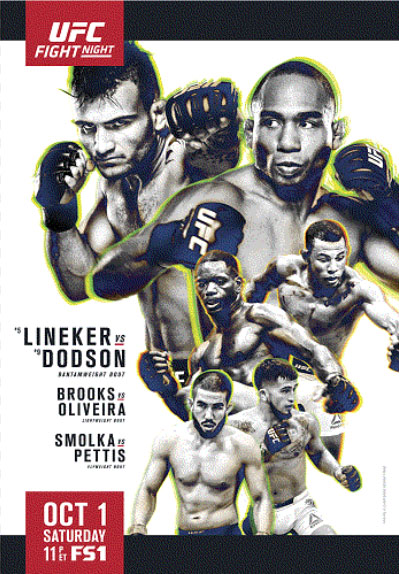 Event: UFC Fight Night 96
Promotion: UFC
Date: October 1st, 2016
Venue: Moda Center
City: Portland, Oregon
Broadcast: Fox Sports 1
It's always exciting when you get to see Cris Cyborg fighting even though it is against lower tier opponents. Lansberg is very tough and did better than what most thought but Cyborg is just too big, strong, fast, and technical. Hopefully, Cyborg gets a top fighter soon. Barao seemed to have his get right fight but it's hard to tell what to make of him at 145 because Nover is a decent fighter but no where near a top fighter, the jury is still out on Barao. The time has come for Bigfoot Silva to retire, too many knockout losses and isn't the same off of TRT. Trinaldo put a beating on Felder and that cut was so nasty it had to be stopped. Pretty impressive by Trinaldo a guy his age looking like a new fighter with skills. Last week our play was a parlay of Barao and Santos at -190 odds. Barao did what was expected but Santos got completely tooled and made a critical error vs a submission guy like Spicely. From past fights Santos never showed that bad of take down defense and just came in thinking he was gonna smoke Spicely, what a dumb mistake by Santos hopefully he never does that again. That brings our free predictions to 22-5 which is 81.5% accuracy.
A total of 27 free predictions have been made since January 2016, with a record of 22-5. Had you placed a $100.00 bet on every prediction, you would've bet a total of $2,700 and had a total outcome of $2,200 winning a profit of $1,343.72 with a return on investment (ROI) of 49.7% (profit divided by total amount risked) using the industry standard metric of a $100 bettor, that's how much you would have currently made following Bet on Combat free predictions.
Lightweight Bout: Will Brooks (-250) vs Alex Oliveira (+190)
In this fight I will be taking the over 2.5 rounds which is -200, (bet $200 to win $100). I just can't see this one ending early unless one guy makes a mistake and the other is able to capitalize on it. Brooks has great wrestling who can stifle his opponents offense and Oliveira has decent stand up and a good submission game but both guys just aren't the finishing type with there skills. I totally see this fight being ugly and both guys battling in a strength test. Lots of clinch work, striking, and maybe some take downs added in.
Prediction: Over 2.5 Rounds
Odds: -200
Stake: 3%
Please remember, while we give out one free prediction for every cards, the real money to be made is through the BOC Consulting services. To get official access to our exclusive bets become a Bet on Combat member today http://www.betoncombat.com/accounts/signup/ is where you can sign up. For some of you new to the betting world check our betting guide to learn how to bet on fights and our bookmakers review page for the best places to wager online. Enjoy the event!