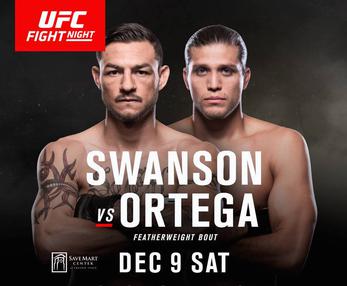 Event: UFC Fight Night 123
Promotion: UFC
Date: December 9th, 2017
Arena: Save Mart Center
Broadcast: Fox Sports 1
For the first time ever the UFC makes it way to Fresno, California with Cub Swanson and Brian Ortega headlining the card in a featherweight match up that has big implications for a possible title shot. Swanson ranks at number 4 in the division and Ortega ranks at number 6. Both fighters have soared their way up the ranks and are in line to face the champ with whoever wins. This is a big step up for Ortega and you have to wonder if he's ready for it because we all know Swanson has faced the best of the best and is really hard to defeat. In the co-main event we have Jason Knight taking on Gabriel Benitez in a featherweight match up. Both Knight and Benitez are coming off losses, to stay relevant in the division both guys are gonna need a win here. I fully expect Knight and Benitez to be a wild and action packed fight with both guys putting it all on the line to get the win. My favorite fight to watch on this card and the one I am excited for the most is Aljamain Sterling vs Marlon Moraes in a huge bantamweight fight. Sterling needs this win to crack the top five in the division and Moraes needs to win to show that he truly is a champion. Sterling versus Moraes is such a pivotal fight for both and will highly dictate where both are headed in the division.
For 2017 we are 22-10 after Dominick Reyes was able to over power and submit Jeremy Kimball and the Gaethje versus Alvarez fight didn't go to a decision. Gaethje and Alvarez was such a war and you knew it would be. Gaethje and Alvarez just take too much damage and I would've been shocked if the fight didn't have someone not get finished. Our ROI is 4% with a total investment of $121 and winning a total amount of $4.45.
Eryk Anders vs Markus Perez
Davi Ramos vs Chris GruetzeMacher
For this card I will be doing a two man parlay of Anders and Ramos at -135 odds (bet $135 to win $100) Perez is just too defensive on the feet and I don't think he can get the fight on the ground where he has a good edge. Anders is the better striker and I see him tagging Perez on the feet. Perez will just take too much damage I feel getting it where he needs it. Anders by TKO. Ramos to me is just the better fighter than Gruetzemacher. I see Ramos using his striking and take down skills to dictate how the fight will go. Ramos will score a take down and win by submission.
Prediction: Anders to win and Ramos to win two man parlay
Stake: 3%
Please remember, while we give out one free prediction for every card, the real money to be made is through the BOC Consulting services. For serious investor only, you may as well want to invest in the world's premier combat sports managed fund right here in order to diversify your personal investment portfolio. I also invite you to join the one and only combat sports betting community and register a free account so you can get access to our chat room and connect and interact with each other to discuss upcoming match-ups, odds, betting tips, predicitons, news, post fights and follow your favorite handicapping experts on the new social network for combat sports gamers. This means you can follow your mates and top ranked bettors, providing a very cool way to get authentic betting tips to improve your real money bets. We are a community of over 1,000 bettors that is dedicated towards helping each other make money from betting on fights. Start posting your picks, gain followers, build your reputation. For some of you new to the betting world check our betting guide to learn how to bet on fights and our bookmakers review page for the best places to wager online.
Enjoy the event!