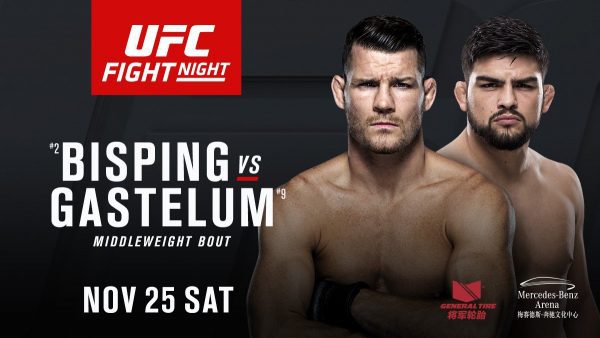 Event: UFC Fight Night 122
Promotion: UFC
Date: November 25th, 2017
Arena: Mercedes Benz Arena
Broadcast: Fox Sports 1
After losing on November 4th against Georges St. Pierre, Michael Bisping makes a quick turnaround to replace Anderson Silva in the main event in Shanghai, China against Kelvin Gastelum. Bisping will be looking for redemption after losing his middleweight title against Gastelum but it wont be easy on such a short notice fight against a hungry and younger fighter in Gastelum. The UFC is making a huge attempt to impact the asian market of MMA so they composed a UFC card that is fully loaded with Chinese fighters. Some of the rising fighters that are featured on the card is Jingliang Li, Guan Wang, Yanan Wu, Xiaonan Yan and Muslim Salikhov. All of these chinese fighters I've mentioned are fighters to look out for as they will look to make a impact on this card. One fight that features some nice prospects are Zabit Magomedsharipov and Sheymon Moraes. Both these featherweight fighters can throw down but Magomedsharipov is a big favorite and for good reason as well.
For 2017 we are 20-10 after Junior Albini crapped the bed against Andrei Arlovski and lost by decision. Albini is just too slow and lacks experience and it showed against Arlovski. Our ROI is 0.4% with a total investment $115 and winning a total amount of $0.48.
Kelvin Gastelum vs Michael Bisping
Zabit Magomedsharipov vs Sheymon Moraes
For this card I will be taking a two man parlay of Magomedsharipov and Gastelum at -152 odds (bet $152 to win $100) Bisping is just coming off a big loss and I feel it's too soon for him to return. Gastelum is younger, quicker, and more hungry at this point in his career. Magomedsharipov is just the better fighter here and is much more skilled with all around striking and wrestling. I think he uses his wrestling pretty affectively and wins.
Prediction: Gastelum and Magomedsharipov to win parlay
Stake: 3%
Please remember, while we give out one free prediction for every cards, the real money to be made is through the BOC Consulting services. For serious investor only, you may as well want to invest in the world's premier combat sports managed fund right here in order to diversify your personal investment portfolio. I also invite you to join the one and only combat sports betting community and register a free account so you can get access to our chat room and connect and interact with each other to discuss upcoming match-ups, odds, betting tips, predicitons, news, post fights and follow your favorite handicapping experts on the new social network for combat sports gamers. This means you can follow your mates and top ranked bettors, providing a very cool way to get authentic betting tips to improve your real money bets. We are a community of over 1,000 bettors that is dedicated towards helping each other make money from betting on fights. Start posting your picks, gain followers, build your reputation. For some of you new to the betting world check our betting guide to learn how to bet on fights and our bookmakers review page for the best places to wager online.
Enjoy the event!