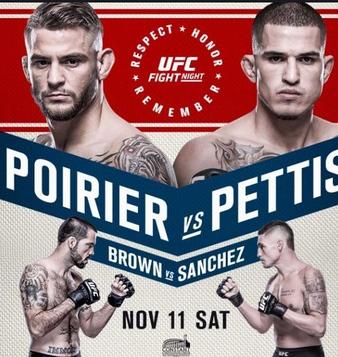 Event: UFC Fight Night 120
Promotion: UFC
Date: November 11th, 2017
Venue: Ted Constant Convocation Center
Broadcast: Fox Sports 1
The UFC is in Norfolk, Virginia this weekend as Anthony Pettis and Dustin Poirier will serve as the main event. Pettis is nearly three years removed from his reign in the UFC lightweight division. Pettis lost three fights in a row at lightweight before choosing to drop down at featherweight where he didn't perform too well either and the weight cut for him was god awful. Pettis is 7-5 in the UFC and things just haven't been good for him as of late. Poirier since losing to McGregor has seen a resurgence in his career and won five fights in a row after losing to McGregor. Poirier only real loss came to Michael Johnson. Pettis and Poirier have both gone in different directions so we shall see if Pettis can turn things around or Poirier continues to move up the ladder. There is very few noticeable names on the UFC Norfolk card but one fight you definitely don't wanna miss is Matt Brown vs Diego Sanchez. Both Brown and Sanchez are at the end of their careers but this fight should definitely be exciting with two guys that love to bang it out. Almost seems Arlovski is being fed to Albini as Arlovski returns to fight the rising talent of Albini. John Dodson versus Marlon Moraes should be interesting as both are high level fighters who can strike well. I can't wait to see Dodson versus Moraes.
For 2017 we are 20-9 after Borrachinha was able to destroy Johny Hendricks. Borrachinha was just more hungrier and the younger fighter looking to put it on Hendricks to build his resume. Hendricks is done now he has to be. Our ROI is 3% with a total investment of $112 and winning a total amount of $3.48.
Andrei Arlovski vs Junior Albini
Raphael Assuncao vs Matthew Lopez
For this card I will be taking a parlay of Albini and Assuncao at -142 odds (bet $142 to win $100) It seems Arlovski is being fed to a younger and hungrier fighter in Albini who will look to get a trademark win against the old and aging Arlovski. I feel Albini will finish Arlovski. Assuncao is just the better fighter all around and has way more experience against top level fighters with some key wins along the way as well.
Prediction: Albini and Assuncao to win
Stake: 3%
Please remember, while we give out one free prediction for every cards, the real money to be made is through the BOC Consulting services. For serious investor only, you may as well want to invest in the world's premier combat sports managed fund right here in order to diversify your personal investment portfolio. I also invite you to join the one and only combat sports betting community and register a free account so you can get access to our chat room and connect and interact with each other to discuss upcoming match-ups, odds, betting tips, predicitons, news, post fights and follow your favorite handicapping experts on the new social network for combat sports gamers. This means you can follow your mates and top ranked bettors, providing a very cool way to get authentic betting tips to improve your real money bets. We are a community of over 1,000 bettors that is dedicated towards helping each other make money from betting on fights. Start posting your picks, gain followers, build your reputation. For some of you new to the betting world check our betting guide to learn how to bet on fights and our bookmakers review page for the best places to wager online.
Enjoy the event!