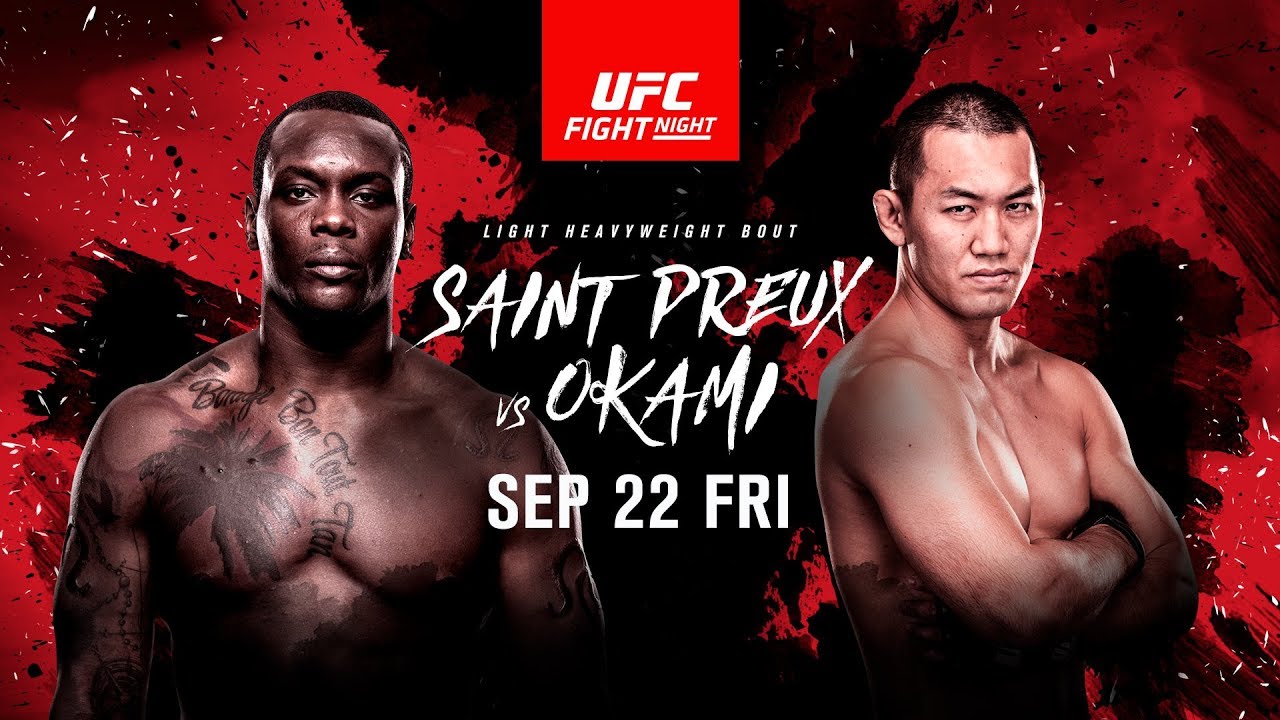 Event: UFC Fight Night 117
Promotion: UFC
Date: September 22nd, 2017
Arena: Saitama Super Arena
Broadcast: Fox Sports 1
For the fifth time the UFC will make their way to Japan at the famous Saitama Super arena. The main event was suppose to be Ovince St. Preux versus Shogun Rua but Shogun Rua had to pull out this week, so the UFC called UFC veteran fighter Yushin Okami to replace Shogun Rua in the main event. Okami has been fighting in the World Series of Fighting and other smaller promotions as of late and is known to be a welterweight fighter. He's stepping up to fight OSP at light heavyweight for this bout. If you ever wanna get back on the big promotions you have to take fights on short notice and maybe not even in your weight class. It could be ugly for Okami but he couldn't pass this opportunity up. OSP has to win this fight because he won his last fight but before that he was coming off three straight losses, should be entertaining nonetheless. In the co-main event we have Claudia Gadelha taking on Jessica Andrade in a absolute great strawweight match that could lead to another title shot for either fighter. Gadelha has only ever been beaten by the champ Joanna and Andrade is coming off a loss to the champ Joanna before winning three fights in a row. Both fighters have to be desperate and hungry to get back on track to potentially have another shot at the champion. Gokhan Saki gets to make his UFC debut against fellow striker Henrique da Silva in a match that should be a absolute banger where someone for sure is gonna get put to sleep. Takanori Gomi will face-off against UFC veteran Dong Hyun Kim in a fight that doesn't look all too good for Gomi who has been finished in most of his fights as of late. Teruto Ishihara will look to find his way back on track as he takes on Rolando Dy, and featherweights Charles Rosa and Mizuto Hirota will bang it out in high impact fight that will be exciting no doubt.
For 2017 we are 17-8 after Luke Rockhold and Justin Ledet were able to score victories in our two man parlay. Rockhold is just better than David Branch and it showed in the fight. No matter how Rockhold and Branch went Rockhold was superior in most areas so it was no surprise he finished Branch with strikes which was a likely outcome. Ledet narrowly out struck his opponent Anyanwu in a heavily contested striking battle. Ledet in my eyes was the better striker but it wasn't his best night but was able to secure the win. Our ROI remains 36%, with a total investment of $4,336 and winning a total amount of $1,600.
Dong Hyun Kim vs Takanori Gomi
For this card I will be taking Dong Hyun Kim at -323 odds (bet $323 to win $100) I can't even remember the last time Gomi has won a fight and he has been finished in just about all of his UFC fights. The last four fights for Gomi he has lost and all of them have been by a finish. Gomi was put on this card just as a name for the Japanese crowd. Gomi doesn't do well eating shots or defending take downs, so I expect Kim to pressure Gomi some and land some shots or even look to score some take downs with his judo skills and pound Gomi away. Basically Gomi is done and Kim just is better at this point in his career which is why I like Kim to win.
Prediction: Kim to win
Stake: 6%
Please remember, while we give out one free prediction for every cards, the real money to be made is through the BOC Consulting services. For seriouse investor only, you may as well want to invest in the world's premier combat sports managed fund right here in order to diversify your personal investment portfolio. I also invite you to join the one and only combat sports betting community and register a free account so you can get access to our chat room and connect and interact with each other to discuss upcoming match-ups, odds, betting tips, predicitons, news, post fights and follow your favorite handicapping experts on the new social network for combat sports gamers. This means you can follow your mates and top ranked bettors, providing a very cool way to get authentic betting tips to improve your real money bets. We are a community of over 1,000 bettors that is dedicated towards helping each other make money from betting on fights. Start posting your picks, gain followers, build your reputation. For some of you new to the betting world check our betting guide to learn how to bet on fights and our bookmakers review page for the best places to wager online.
Enjoy the event!