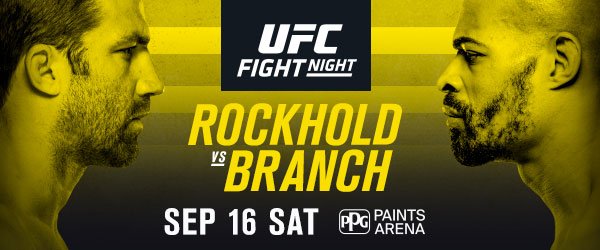 Event: UFC Fight Night 116
Promotion: UFC
Date: September 16th, 2017
Arena: PPG Paints Arena
Broadcast: Fox Sports 1
The UFC makes its way to Pittsburgh, Pennsylvania that will feature some big names and talented fighters. The main event will feature Luke Rockhold versus David Branch. Rockhold is trying to make his way back to obtaining the title and he's on a mission of redemption in a big way. Branch is a former two division champion in the world series of fighting and is trying to make a big impact now on the biggest stage in the world. Rockhold has been on a big hiatus, he hasn't fought since losing the belt to Bisping. Rockhold is just chomping at the bit to get back and fight for the title, whereas Branch coming off a split decision victory is looking to move up the ladder and make a name for himself now. Rockhold is a big favorite in this fight as he should be but no fight is ever easy. The co-main event is Thiago Alves versus Mike Perry. Alves versus Perry is gonna be a banger, I would be shocked if this fight goes the distance because both guys can just bang it out literally. If you are into finishes you are gonna wanna be glued to the seat for this one because someone is getting finished. The card also features the likes of Uriah Hall, Kamaru Usman, Anthony Hamilton, Krzysztof Jotko and Hector Lombard. All four of these fighters are big names and can finish fights. You wouldn't wanna miss them when they fight so make sure to keep an out for them as they don't disappoint most of the time with exciting fights.
For 2017 we are 16-8 after Sara McMann got submitted by Ketlen Vieira in the second round of their three round fight. McMann got caught slipping and continues to be up and down when it comes to her ground game. This loss sets McMann quite a bit back and she has work to do on her ground game. Our ROI is 36%, with a total investment of $4,136 and winning a total amount of $1,500.
Luke Rockhold vs David Branch
Justin Ledet vs Azunna Anyanwu
For this card I've decided to take a two man parlay of Luke Rockhold and Justin Ledet at -200 odds (bet $200 to win $100) Rockhold is a superior fighter compared to Branch and he has a motivation factor for this fight as he is trying to get back to the title picture. Rockhold is just better all around so I expect him to out strike Branch on the feet or even maybe submit Branch if it goes to the floor. Ledet versus Anyanwu will be all standing and I feel Ledet has the striking edge in this one with his powerful striking and slick boxing. I expect this fight to not go the distance with someone getting knocked out cold.
Prediction: Rockhold and Ledet to win parlay
Stake: 4%
Please remember, while we give out one free prediction for every cards, the real money to be made is through the BOC Consulting services. For seriouse investor only, you may as well want to invest in the world's premier combat sports managed fund right here in order to diversify your personal investment portfolio. I also invite you to join the one and only combat sports betting community and register a free account so you can get access to our chat room and connect and interact with each other to discuss upcoming match-ups, odds, betting tips, predicitons, news, post fights and follow your favorite handicapping experts on the new social network for combat sports gamers. This means you can follow your mates and top ranked bettors, providing a very cool way to get authentic betting tips to improve your real money bets. We are a community of over 1,000 bettors that is dedicated towards helping each other make money from betting on fights. Start posting your picks, gain followers, build your reputation. For some of you new to the betting world check our betting guide to learn how to bet on fights and our bookmakers review page for the best places to wager online.
Enjoy the event!