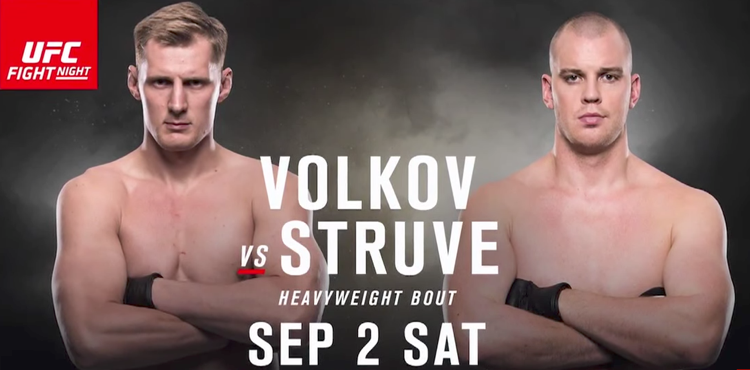 Event: UFC Fight Night 115
Promotion: UFC
Date: September 2nd, 2017
Arena: Ahoy Rotterdam
Broadcast: Fox Sports 1
After a month lay-off the UFC returns to Rotterdam, Netherlands. The main will feature two of tallest and biggest fighters on their roster with Stefan Struve vs Alexander Volkov. The UFC is in a desperate need for some new contenders in the heavyweight division. Struve has been with the UFC for eight years but has never come close to getting a title shot and Volkov is the former Bellator heavyweight champion but this is just his third fight in the UFC. There's some new blood in the heavyweight division but it's hard to imagine if either of these guys can make a rise for a shot at the title. Even if they rise to make a title shot I just can't see them beating the current champion Stipe Miocic. Other fighters on this card feature some fighters who are known and have UFC experience including the likes of Marion Reneau, Siyar Bahadurzada, Bryan Barberena, Rustam Khabilov, Mairbek Taisumov, Leon Edwards and Desmond Green. The fight to watch in my opinion is Bryan Barberena vs Leon Edwards. Barberena is always under estimated but is thrown to the wolves constantly. Edwards will have his hands full a little bit because Barberena just seems to be in fights that he should never be in. Khabilov has a stiff test against Green and Green could be a live dog here, this is one fight to be glued for as well. Taisumov is a beast and I love watching him fight because he knows how to finish fights and is a very bright prospect to watch out for. This card isn't the greatest but has some fights to watch out for like I mentioned so tune in!
For 2017 we are 15-7 after Jack Hermansson was able to lure Brad Scott into a fight and pound his way into a nice tko victory. Like I figured Scott really wouldn't have a answer for Hermansson and his wrestling that has a brutal ground and pound game as well. Our ROI is now 38%, with a total investment of $3,644 and winning a total amount of $1,400.
Mairbek Taisumov vs Felipe Silva
For this card I've decided to take Taisumov at -245 odds (bet $245 to win $100) I don't see Silva being on the level of Taisumov in this one. Both are strikers but I just feel Taisumov is better and more skilled. Taisumov has more tools and speed in his favor and this fight is all the making of a highlight reel for Taisumov to win in a knockout fashion.
Prediction: Taisumov to win
Stake: 5%
Please remember, while we give out one free prediction for every cards, the real money to be made is through the BOC Consulting services. For seriouse investor only, you may as well want to invest in the world's premier combat sports managed fund right here in order to diversify your personal investment portfolio. I also invite you to join the one and only combat sports betting community and register a free account so you can get access to our chatroom and connect and interact with each other to discuss upcoming match-ups, odds, betting tips, predicitons, news, post fights and follow your favorite handicapping experts on the new social network for combat sports gamers. This means you can follow your mates and top ranked bettors, providing a very cool way to get authentic betting tips to improve your real money bets. We are a community of over 1,000 bettors that is dedicated towards helping each other make money from betting on fights. Start posting your picks, gain followers, build your reputation. For some of you new to the betting world check our betting guide to learn how to bet on fights and our bookmakers review page for the best places to wager online.
Enjoy the event!