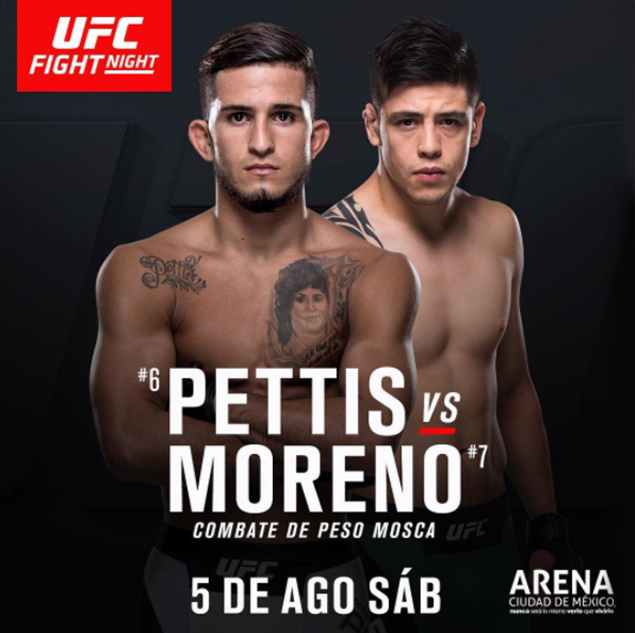 Event: UFC Fight Night 114
Promotion: UFC
Date: August 5th, 2017
Arena: Arena Ciudad de Mexico
Broadcast: Fox Sports 1
After such a stacked card last weekend we now have a meh card with UFC Fight Night 114. Usually after a big event the cards aren't so good because the UFC tried to make a PPV so big. This is a nice level off card after a big UFC 214. The main event features two flyweight fighters who are trying to make their way for a title shot in the flyweight division. Sergio Pettis will take on Brandon Moreno as the headliner. Pettis is on a 3 fight win streak with wins over John Moraga and Chris Cariaso. Moreno hasn't lost in 5 years and has some key wins over the likes of Louis Smolka and Dustin Ortiz. Whoever wins here is jockeying for a title shot and will probably be next in line to face the champ. The co-main event is a interesting strawweight match with Randa Markos taking on Alexa Grasso. Markos has had a resurgence in her career as of late with a big win over Carla Esparza. Grasso is a highly touted prospect who is looking to get back on track after losing to Felice Herrig. Both of these fighters aren't close to a title shot, Markos is creeping her way up the division and Grasso is still a nice prospect to look out for. There really isn't much else to say on this card as it really isn't too intriguing. Evans vs Alvey is a decent match up, it's a to see where Evans is at because if he don't win here he's really done. Niko Price gets a step up in competition as he takes on Alan Jouban in a striker versus grappler match up. We will find out a lot about Price to see where he will go from here. All in all it's a come down card like I mentioned and you could possibly watch something better this weekend that's for sure.
For 2017 we are 14-7 after Tyron Woodley was able to get the job done against Demian Maia. Woodley is a very smart fighter and has really good take down defense when he fights. Maia just couldn't implement is game plan against Tyron Woodley who is just too hard to get down and keep down. Woodley slighty picked apart Maia and got the well deserved win. Our ROI is now 38%, with a total investment of $3,404 and winning a total amount of $1,300.
Jack Hermansson vs Brad Scott
For this card I've decided to take Jack Hermansson at -240 0dds (bet $240 to win $100) Hermansson is just the better fighter in my opinion. Hermansson has great foot work, power, and a good ground game. Scott is well rounded as well but I don't see him having the answers for Hermansson who is just a level above skill wise.
Prediction: Hermansson to win
Stake: 5%
Please remember, while we give out one free prediction for every cards, the real money to be made is through the BOC Consulting services. For seriouse investor only, you may as well want to invest in the world's premier combat sports managed fund right here in order to diversify your personal investment portfolio. I also invite you to join the one and only combat sports betting community and register a free account so you can get access to our chatroom and connect and interact with each other to discuss upcoming match-ups, odds, betting tips, predicitons, news, post fights and follow your favorite handicapping experts on the new social network for combat sports gamers. This means you can follow your mates and top ranked bettors, providing a very cool way to get authentic betting tips to improve your real money bets. We are a community of over 1,000 bettors that is dedicated towards helping each other make money from betting on fights. Start posting your picks, gain followers, build your reputation. For some of you new to the betting world check our betting guide to learn how to bet on fights and our bookmakers review page for the best places to wager online.
Enjoy the event!