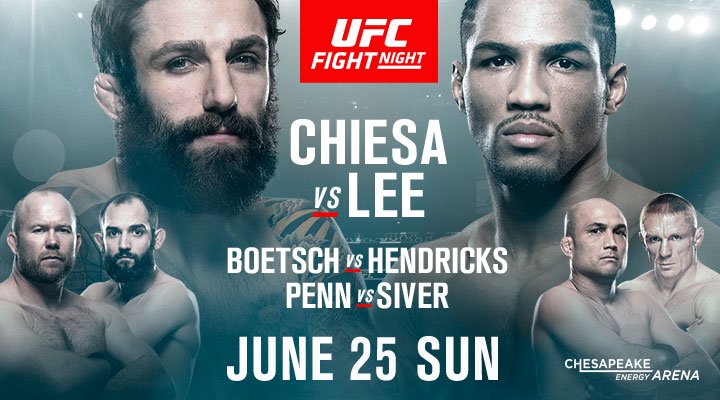 Event: UFC Fight Night 112
Promotion: UFC
Date: June 26th, 2017
Arena: Chesapeake Energy
Broadcast: Fox Sports 1
The UFC heads to Oklahoma City on Sunday with UFC Fight Night 112 as Michael Chiesa will take on Kevin Lee in the main event. How can one forget that awful press conference these two fighters were apart of to kick off this summer of fights? Everybody tried to pull a McGregor at the press conference but some did ok while the others were just not themselves. Kevin Lee completely got under Chiesa skin as he made a comment about Chiesa mother and that ensued a mini brawl which actually was a good thing and brought attention to this fight as both guys dislike each other now. Both of these fighters will look to make big steps in their career whoever wins and it's a very close and good fight. In the co-main event we have Johny Hendricks taking on Tim Boestch. Hendricks will try and keep his momentum going in his new weight class of 185 but Boestch is one tough dude and this should be a tactical fight on the feet. Hendricks vs Boestch could be a very boring fight but we shall see what Hendricks is made of as he will continue to fight at 185 and face even harder opponents. Felice Herrig and Justine Kish are a great match-up at strawweight. Herring has rejuvenated her career but Kish is undefeated so this makes for all the makings of a close and scrappy fight. Whoever wins Herring or Kish it will be a big feather in their cap. BJ Penn is trying to make a relevant comeback as he takes on Dennis Siver. Penn just doesn't look the same so he is matched up against Siver. There possibly could be value betting Penn but I would just stay away because Penn has looked so awful and Siver really has a chance to beat him. Lee and Chiesa are very underrated lightweights, just that fight alone I would tune in for and so should you.
For 2017 we are 9-6, we are at a tough stretch here so hopefully the betting gods is on our side for this event. Justin Scoggins fight IQ is just god awful and it continues to get him in trouble. Scoggins just continues to make errors when he is winning a fight or is clearly the better fighter. I would avoid Scoggins from here on out as he drops us to 9-6. Our ROI is now 34% with a total investment of $2,577 and winning a total amount of $900.
Kevin Lee vs Michael Chiesa
Dominick Reyes vs Joachim Christensen
I will be doing a 2 man parlay of Reyes to win and Lee vs Chisea fight doesn't go to a decision at -125 odds (bet $125 to win $100) Reyes is in a favorable match-up where he should be able to either out strike Christensen or knock him out. Reyes has the style to win either way and should do so in his UFC debut. Lee vs Chiesa isn't hard to break down. Lee will try to take off the head of Chiesa or Chiesa will get a submission victory. I just can't see this fight going the distance as both guys have substantial edges in finishing fights in their own way. If I had to guess Chiesa wins by submission round 2.
Prediction: Reyes to win and Lee vs Chiesa doesn't go to a decision parlay.
Stake: 3%
Please remember, while we give out one free prediction for every cards, the real money to be made is through the BOC Consulting services. To get official access to our exclusive bets become a Bet on Combat member today http://www.betoncombat.com/accounts/signup/ is where you can sign up. For some of you new to the betting world check our betting guide to learn how to bet on fights and our bookmakers review page for the best places to wager online. Enjoy the event!