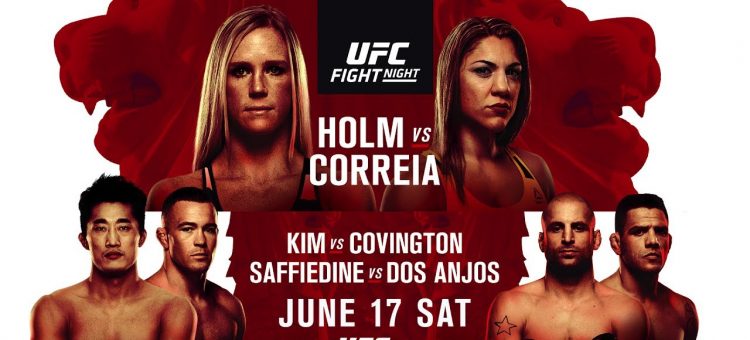 Event: UFC Fight Night 111
Promotion: UFC
Date: June 18th, 2017
Arena: Singapore Indoor Stadium
Broadcast: UFC Fight Pass
It's gonna be a early showing and your gonna need a lot of coffee to be up for the UFC event this weekend that takes place in Singapore. The card is full of up and coming fighters as well as former champions. The main event features former boxing champion Holly Holm taking on Bethe Correia. Both of these fighters are trying to make there way back in the bantamweight division after having some tough losses recently. Holm became famous after knocking out Rousey but since than has lost 3 fights in a row and is trying to get back to her winning ways. However, it won't be easy beating Correia who is super tough. Correia in her last 4 fights has 1 win, 2 losses, and 1 draw. Correia needs this win badly if she wants to boost her stock back up in the bantamweight division. Both of these fighters are strikers so it should make for a exciting fight. Also, on the main card you have Andrei Arlovski taking on former M-1 champ Marcin Tybura. It almost seems they are feeding Arlovski to the wolves and trying to build up Tybura. No matter what happens Arlovski can't have much time left. Dong Hyun Kim will take on Colby Covington in a welterweight fight that will either be exciting or completely boring as Covington will try and use his excellent wrestling skills versus the dangerous striker in Kim. Former UFC lightweight champion Rafael dos Anjos will take on Tarec Saffiedine in a welterweight bout. This is the first time we will see Anjos in a welterweight fight since moving up from lightweight. If you love a nice striking match this fight you wouldn't wanna miss. Both of these guys are great strikers and match-up quite well. Saffiedine is no easy fight so it should be interesting to see if Anjos still has it even at welterweight. The prelims shape out pretty well as you have some veterans mixed in with some newcomers. One fighter I would watch out for on the undercard is Naoki Inoue. Inoue is only 19 years old but he looks like a very bright prospect. Go and watch some Inoue fights and you'll see what I am talking about. Also, on the under card is Alex Caceres and Justin Scoggins both in which are two exciting fighters to watch who can strike really well. I fully expect both of them to get back on track and do it impressively as well. It's gonna be a super early card to watch but like I always say you don't wanna miss it for the world.
For 2017 we are 9-5, a tough stretch we have going but this week a win is necessary. Last week, Tim Elliott got caught with that kick to the face and than got choked out like nobodies business. Stuff like this happens from time to time and you can't do nothing but move on, Elliott was so rocked he didn't even remember the choke out, that has to suck. I feel Elliott was prepared but if you get caught there isn't much you can do. Our ROI is now 42% with a total investment of $2,119 and winning a total amount of $900.
Justin Scoggins vs Ulka Sasaki
For this fight I will be taking Justin Scoggins at -458 odds (bet $458 to win $100) Scoggins will have to have a huge brain fart to lose this fight. Sasaki is tough but does most of his work in the clinch and that's a huge problem for Sasaki because Scoggins is excellent at keeping the range with his elite striking skills. Scoggins is gonna pick apart Sasaki and get a tko win here and finally get back on track.
Prediction: Scoggins to win
Stake: 5%
Please remember, while we give out one free prediction for every cards, the real money to be made is through the BOC Consulting services. To get official access to our exclusive bets become a Bet on Combat member today http://www.betoncombat.com/accounts/signup/ is where you can sign up. For some of you new to the betting world check our betting guide to learn how to bet on fights and our bookmakers review page for the best places to wager online. Enjoy the event!