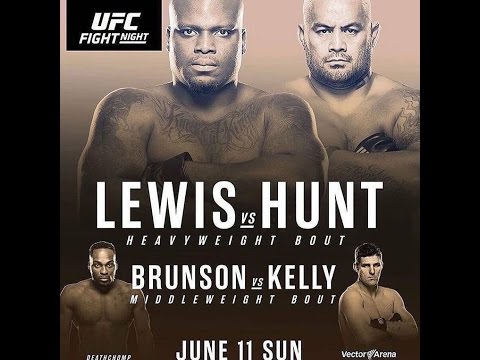 Event: UFC Fight Night 110
Promotion: UFC
Date: June 10th, 2017
Arena: Spark
Broadcast: Fox Sports 1
The UFC returns this week and they are back in Auckland, New Zealand with Derrick Lewis versus Mark Hunt in the main event. Both of these fighters are absolute tanks who will square off in a heavyweight bout where someone will get put face flat from a monster shot. This fight is particularly huge for Derrick Lewis because if he wins he has a case for a title shot. Mark Hunt will be his toughest test to date because Derrick Lewis has won 6 fights in a row in the UFC but they have been against mediocre competition. Mark Hunt has faded in the UFC after having a nice start and at 43 years old it's tough to tell how much he has left because he has nothing left to prove really, the dude is a legend with some unbelievable knockouts. All in all this match-up will be exciting and I can't wait to see these two monsters throw down. In the co-main event we have Derek Brunson vs Daniel Kelly. At age 39, Daniel Kelly just continues to impress, he's 6-1 in the UFC and 13-1 overall. Kelly has a world class Judo background with some big wins over the likes of Chris Camozzi and Rashad Evans. Personally, I am not sold on Kelly but if he beats Brunson that would definitely put him in the top 10 and have the chance to face even better competition to see really what he is made of. You almost have to think Brunson has to win this fight against Kelly because if not from here on out Brunson will probably never make it back from a loss here. However, Brunson is a big road block for Kelly. Brunson is very powerful and athletic who is still in his prime. Brunson has a big reach advantage in this fight and with the power he has he could finish Kelly with just one shot. Kelly will have to avoid the power shot if he wants to keep things going and move up the ladder. Other notable fighters to watch out for is Ross Pearson vs Daniel Hooker, Tim Elliott vs Ben Nguyen, Henrique Da Silva vs Ion Cutelaba, and Alex Volkanovski vs Mizuto Hirota. Pearson and Hooker have been around for a long time and have also faced really good opponents along the way. Pearson and Hooker probably won't be a boring fight and could potentially be the fight of the night. Elliott vs Nguyen is a great fight at fly weight. Its size and strength of Elliott vs the striking of Nguyen. This fight will have a lot of speed and scrambles. I would be impressed if Nguyen can pull this one off vs the very tough Elliott. Silva vs Cutelaba will be a absolute brawl between two big light heavyweights. These two will go to war but I fancy a Cutelaba win here, he's a tad better. Volkanovski is a great featherweight prospect but his fight vs Hirota is closer than what people think. Hirota is slick and is a saavy veteran. Volkanovski should out strike Hirota and get the job done though. All these fights I've mentioned you will want to tune in for.
For 2017 we are 9-4 after Vitor Belfort was able to pull it out against Nate Marquardt. The fight was closer than I envisioned because I really thought Belfort would be able to catch Marquardt and knock him out. Marquardt fought smartly but Belfort was still able to out work and strike Marquardt. It was a sweat but a win is a win. Our ROI is now 46% with a total investment of $1,920 and winning a total amount of $900.
Tim Elliott vs Ben Nguyen
For this card I will be doing a straight bet on Tim Elliott at -199 odds (bet $199 to win $100) Elliott is just a better fighter than Ben Nguyen when you break it down. The size and strength of Elliott will be hard to overcome. Even Demetrious Johnson had trouble with Elliott and his size. I can't see Nguyen finishing or even come close to out working Elliott. Elliott also has a unorthodox fighting style so it's gonna be hard to time him in the striking department. All these factors in place I expect Elliott to win by submission or a decision.
Prediction: Elliott to win
Stake: 5%
Please remember, while we give out one free prediction for every cards, the real money to be made is through the BOC Consulting services. To get official access to our exclusive bets become a Bet on Combat member today http://www.betoncombat.com/accounts/signup/ is where you can sign up. For some of you new to the betting world check our betting guide to learn how to bet on fights and our bookmakers review page for the best places to wager online. Enjoy the event!