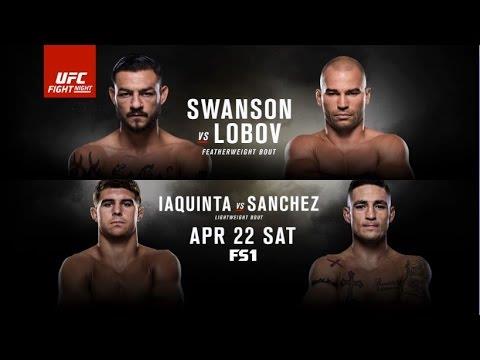 Event: UFC Fight Night 108
Promotion: UFC
Date: April 22nd, 2017
Arena: Bridgestone Arena
Broadcast: Fox Sports 1
The UFC is back at it again and we know you can't get enough of it. This week the UFC is back in Nashville, Tennessee and when you look and see what the main event is you just have to scratch your head and be like is this for real? Sadly, we know what direction the UFC has headed in but this type of main event is few and far between honestly. The main event features Cub Swanson versus Artem Lobov. Lobov isn't as bad as what people think but this will be his toughest test to date against the very good and skilled Swanson. It's Swanson fight to lose and he most likely dominates Lobov and gets the finish because skill wise it is night and day. The co-main features the return of Al Iaquinta versus Diego Sanchez. Raging Al has been away for two years and is chomping at the bit to get back in there and get a fight under his belt. Sanchez is a legend and has amazing fights because he is hard to finish, this fight potentially could be a classic and a war. The line is huge in favor of Iaquinta but it's closer than that but whatever happens it should be a great fight. Ovince St. Preux needs a win badly here because he has lost 3 straight fights but he is back to Nashville which is very close to his gym but it won't be easy to win here versus the tough De Lima. I hope OSP wins by KO but my fingers are crossed. Jake Ellenberger takes on evil Mike Perry in a fight that should be a contested war where somebody is gonna get knocked out cold. Ellenberger needs a win here and it would be awesome if he does so because Mike Perry isn't a savory character and if you wanna know what i mean just search Mike Perry on the internet. John Dodson versus Eddie Wineland at bantamweight is a great fight and we should expect to see two top bantamweights slug it out in a fight that could potentially be fight of the night as well. Wineland is a great fighter but could be in trouble here versus the super fast and athletic Dodson. If Lineker couldn't KO Dodson it's hard to imagine Wineland can. The card isn't filled with too much name power but the matchups are pretty good and interesting, i'll be tuning in that's for sure.
For 2017 we are 7-2 after Tom Duquesnoy was able to win inside the distance. Duquesnoy is very hittable and scared us for a minute but in the end was able to get the job done against Patrick Williams who completely gassed and didn't wanna be there no more. It was a fight to show case the finishing skills of Duquesnoy, it wasn't pretty but he got job done nonetheless. Our ROI stays at 54% with a total investment of $1,313 and winning a total amount of $700.
Cub Swanson vs Artem Lobov
For this event I will be taking Cub Swanson to win inside the distance at -190 odds (bet $190 to $100) there's such a huge difference in skill and experience I just can't see Lobov being able to last 5 rounds vs Swanson. Don't let anyone tell you Lobov has a chance here. Anything could happen and Lobov hits a lottery KO but in 31 fights Swanson has only been tko/ko by one person and that was Jose Aldo. Swanson is just way better everywhere so I expect him to totally dominate and get a finish here by tko or ko.
Prediction: Swanson to win inside the distance
Stake: 4%
Please remember, while we give out one free prediction for every cards, the real money to be made is through the BOC Consulting services. To get official access to our exclusive bets become a Bet on Combat member today http://www.betoncombat.com/accounts/signup/ is where you can sign up. For some of you new to the betting world check our betting guide to learn how to bet on fights and our bookmakers review page for the best places to wager online. Enjoy the event!