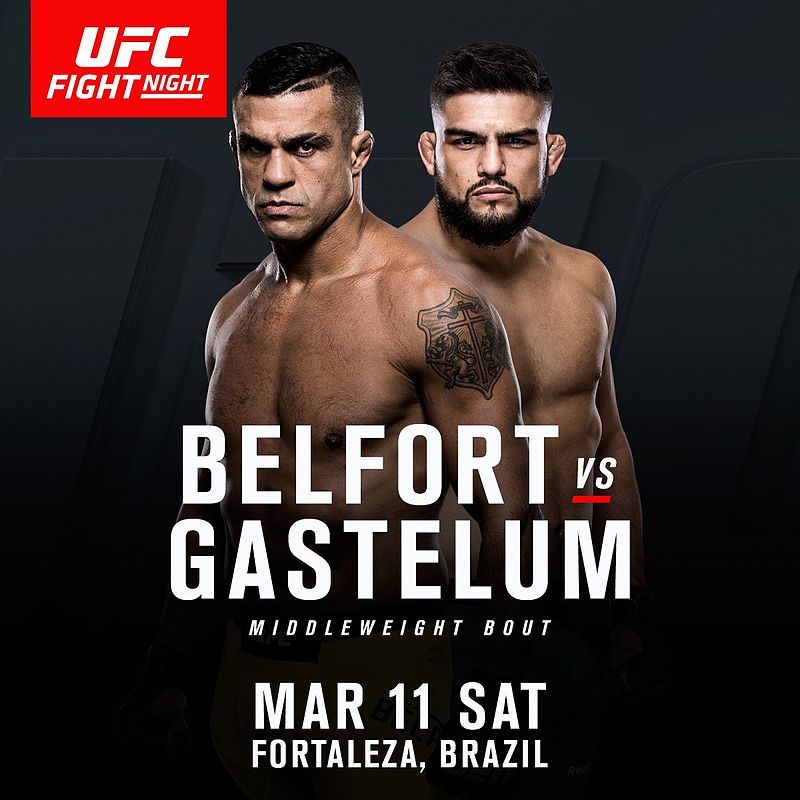 Event: UFC Fight Night 106
Promotion: UFC
Date: March 11th, 2017
Arena: Centro de Formação Olímpica do Nordeste
Broadcast: Fox Sports 1
The UFC makes its way to Fortaleza, Brazil this Saturday. The last time the UFC was in Fortaleza was June 2013 when they had UFC on Fuel TV: Nogueira vs Werdum. In the main event we have Vitor Belfort taking on Kelvin Gastelum. This could very well be the last fight for Vitor Belfort who has spent 20 years fighting at least and father time catches up to us all. Gastelum will look to score a big win over the big name veteran and if I know one thing about this fight it's not going the distance and someone will be finished in exciting fashion. In the co-main event we have Shogun Rua vs Gian Villante. If Villante can win here he probably gets shot up into the top 10, whereas a win for Rua could potentially get him back on track to make a small run in the division. The rest of the card features some pretty notable fighters such as Edson Barboza, Ray Borg, Alex Oliveira, Beneil Dariush, Marion Reneau, Bethe Correia, Tim Means, Francisco Trinaldo, Kevin Lee, and Jussier Formiga. Barboza vs Dariush is one hell of a fight, will be interesting to see if Dariush can deal with the elite striking of Barboza. The UFC don't want Trinaldo to keep winning it seems by matching him up vs Lee who is a tough and powerful youngster who will look to knock off the winning streak of Trinaldo. We will really see what Borg is made of vs the very tough and skilled Formiga, who will be the toughest test to date for Borg. This card is actually one of the better Fight Nights so it should be exciting and actually worth watching.
For 2017 we are 5-1 after our parlay of Vannata to win and Bektic vs Elkins over 1.5 rounds was busted by Vannata losing a epic battle to David Teymur. Vannata on second thought was not a good pick because he is very hittable and just tends to be too flashy instead of trying to win. Im not too upset because the fight was close but I have to give it to Teymur who showed skills he never has before and fought unbelievably vs the ever so skill Vannata. 2017 brings our ROI to 51%, a total investment of $967 and winning a total amount of $500.
Sergio Moraes vs Davi Ramos
For this card I will be taking Moraes as a straight bet at -214 odds (bet $214 to win $100) Ramos is taking this fight on short notice and I don't think he will fair too well vs Moraes who is the more experienced fighter and has a size and power advantage over Ramos who has mostly fought at lightweight and will be competing at welterweight for this fight. I see Moraes over whelming Ramos and most likely winning a decision.
Prediction: Sergio Moraes to win straight bet
Stake: 5%
Please remember, while we give out one free prediction for every cards, the real money to be made is through the BOC Consulting services. To get official access to our exclusive bets become a Bet on Combat member today http://www.betoncombat.com/accounts/signup/ is where you can sign up. For some of you new to the betting world check our betting guide to learn how to bet on fights and our bookmakers review page for the best places to wager online. Enjoy the event!