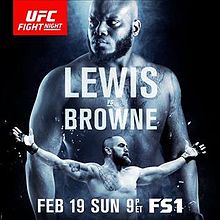 Event: UFC Fight Night 105
Promotion: UFC
Date: February 19th, 2017
Arena: Scotiabank Centre
City: Halifax, Nova Scotia
Broadcast: Fox Sports 1
Last week UFC 208 was not a good card. Actually, it's the worst I have ever seen and hopefully this card will be for redemption. The good thing about UFC Fight Night 105 is that it has devastating finishers on it with Lewis, Browne, Hendricks, and Lombard. Hopefully, it won't be as lackluster as last week. The main event features Derrick Lewis vs Travis Browne. Lewis has finally found himself a important fight vs the heavyweight veteran Browne. If Lewis can win in this spot he probably is in the heavyweight contender status. Johny Hendricks makes his debut at middleweight vs Hector Lombard after failing with his weight cuts at 170. Both fighters are potentially fighting for their jobs and will be one heck of a scrap. Will Lombard live up to the hype? Will Hendricks make weight and actually look good at 185? We shall see how this one goes. Some other known faces on the card are Elias Theodorou, Carla Esparza, Sam Silicia, and Paul Felder. The card can't be worse than last week and I have a feeling we could see some fireworks so make sure to tune in.
For 2017 we are 4-0 after Wilson Reis defeated Ulka Sasaki and Jacare Souza won inside the distance vs Tim Boestch. Reis clearly won his fight but found a little trouble because the size difference and got his back taken in the last round. Reis showed he was the superior fighter with his grappling and it's about time he faces Demetrious Johnson. Jacare is a absolute beast and he showed it vs Boestch. Jacare was able to get Boestch down and once he did it was a wrap with a beautiful kimura. 2017 brings our ROI to 57%, a total investment of $697 and winning a total amount of $400.
Sarah McMann vs Gina Mazany
Carla Esparza vs Randa Markos
For this card I will be taking a 2 woman parlay of McMann to win and Esparza vs Markos to go over 2 1/2 rounds at -170 odds (bet $170 to win $170) McMann vs Mazany is a squash match. Mazany hasn't fought in years and is just facing a better fighter who is more athletic and powerful. This is a spot to make McMann look good here and she will win a dominant decision. Esparza has been out for over a year and Markos is a tough fighter so I think both will neutralize each other back and forth. Both fighters aren't real finishers so I totally see this going the distance with Esparza winning a unanimous decision most likely.
Prediction: McMann to win and Esparza vs Markos over 2 1/2 rounds
Stake: 3%
Please remember, while we give out one free prediction for every cards, the real money to be made is through the BOC Consulting services. To get official access to our exclusive bets become a Bet on Combat member today http://www.betoncombat.com/accounts/signup/ is where you can sign up. For some of you new to the betting world check our betting guide to learn how to bet on fights and our bookmakers review page for the best places to wager online. Enjoy the event!