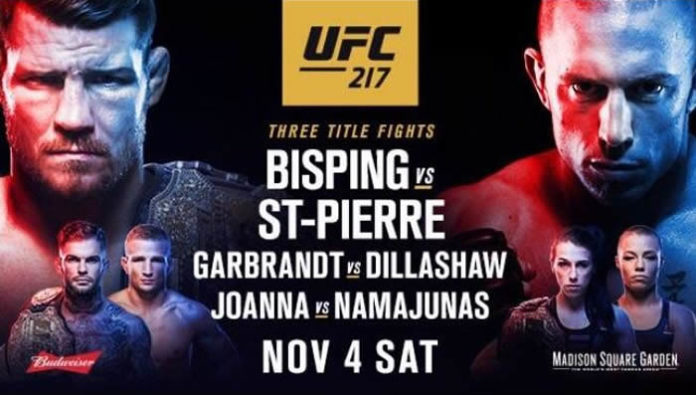 Event: UFC 217
Promotion: UFC
Date: November 11th, 2017
Venue: Madison Square Garden
Broadcast: Fox Sports 1 and PPV
Well we are finally here for the long awaited return of Georges St. Pierre who will take on Michael Bisping for the middleweight title. It has been four years since GSP has fought in the octagon, and hasn't lost a fight in over a decade. Bisping is coming off back to back wins. Bisping beat Rockhold in 2016 and than defeated Dan Henderson in a decision victory. Bisping has been out of action for over a year. The outcome of this middleweight title fight will make the division pretty interesting since you've contenders sitting idle and Robert Whittaker is sitting as the interim champ. Whoever wins Bisping or GSP, you've to wonder where the division will go from here on out. The co-main event will feature a grudge match between current bantamweight champ Cody Garbrandt and TJ Dillashaw. These two fighters have bad blood between each other ever since Dillashaw left team Alpha Male. Garbrandt has continually ridiculed Dillashaw physically and mentally over leaving the team. This weekend the bitter rivalry of Garbrandt and Dillashaw will finally come to a head. The third title fight of the evening will feature Joanna Jedrzejczyk against Rose Namajunas. Joanna has defended her title five times and this will be her sixth time defending it in two and a half years. Rose has her work cut out for her as it seems Joanna is virtually unbeatable at this point it seems. Tha main card also features Stephen Thompson against Jorge Masvidal in a fight that should be a epic striking battle. Johny Hendricks will also go up against Paulo Borrachinha who sits undefeated at 10-0. You gotta wonder what Hendricks has left and his opponent Borrachinha is no joke especially on the feet.
For 2017 we are 19-9 after John Lineker wasn't able to get the TKO/KO win over Marlon Vera. Vera was hard to finish the whole fight and had the right game plan to try and avoid the power of Lineker. Our ROI is 1% with a total investment of $107.00 and winning a total amount of $1.63.
Paulo Borrachinha vs Johny Hendricks
For this card I will be taking Paulo Borrachinha at -270 odds (bet $270 to win $100) Borrachinha is just hungrier, younger, and more aggressive than Hendricks. This is all the making of a fight to build a upcoming fighter against a former champ to build his resume. I really believe Borrachinha is gonna finish Hendricks and win by knockout.
Prediction: Borrachinha to win
Stake: 5%
Please remember, while we give out one free prediction for every cards, the real money to be made is through the BOC Consulting services. For seriouse investor only, you may as well want to invest in the world's premier combat sports managed fund right here in order to diversify your personal investment portfolio. I also invite you to join the one and only combat sports betting community and register a free account so you can get access to our chat room and connect and interact with each other to discuss upcoming match-ups, odds, betting tips, predicitons, news, post fights and follow your favorite handicapping experts on the new social network for combat sports gamers. This means you can follow your mates and top ranked bettors, providing a very cool way to get authentic betting tips to improve your real money bets. We are a community of over 1,000 bettors that is dedicated towards helping each other make money from betting on fights. Start posting your picks, gain followers, build your reputation. For some of you new to the betting world check our betting guide to learn how to bet on fights and our bookmakers review page for the best places to wager online.
Enjoy the event!