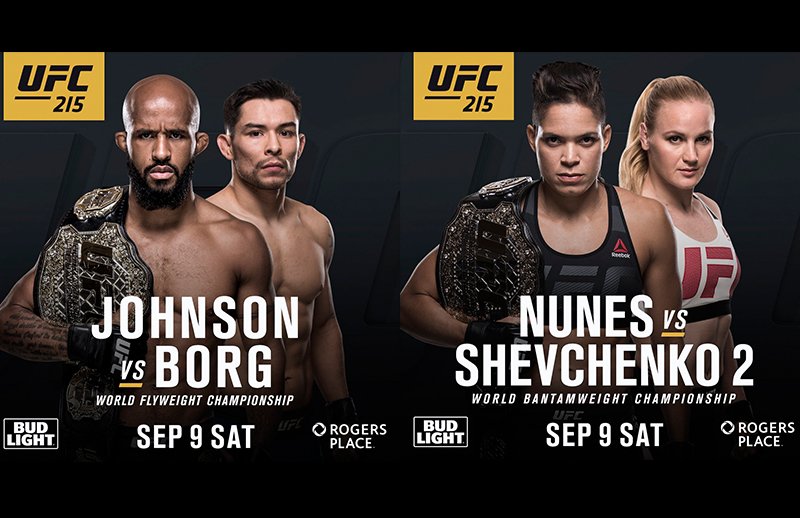 Event: UFC 215
Promotion: UFC
Date: September 9th, 2017
Arena: Rogers Place
Broadcast: Fox Sports 1 and PPV
The UFC is making its way back to Alberta, Canada for UFC 215. Demetrious Johnson has a chance to set the all time record with most title defenses in UFC history. He has tied the record of Anderson Silva at 10 defenses and is going for his 11th title defense. Honestly, I never thought this record that was held by Anderson Silva would be broken, too much talent these days and it's fighting which means anything can and will happen. Demetrious Johnson takes on Ray Borg in the main event for the UFC flyweight title. Borg is a huge underdog in this fight and for good reason because Demetrious Johnson is so good and skilled, it will be tough to beat him. In the co-main event Amanda Nunes will meet Valentina Shevchenko for the second time for the UFC bantamweight title. The two were suppose to meet back at UFC 196 but Nunes had a illness but the fight is booked this time around and it should be exciting. Nunes vs Shevchenko is gonna come down to cardio. Nunes is very dangerous early but as the fight goes on she tends to fade and probably won't last five rounds with much gas left. It will be interesting to see if proper adjustments are made because this fight will be a epic striking battle. The PPV card also features the likes of Neil Magny who is a top fighter in the welterweight division and he will take on Rafael dos Anjos who is a former lightweight champion and is making the move up welterweight after not wanting to cut weight no more at lightweight. I really wonder what dos Anjos has left in the tank because Magny is for sure a live dog here with his size and fighting abilities. Ilir Latifi will look to stop the hype of Tyson Pedro in a light heavyweight match up that forecasts to be a slobber knocker with someone going to sleep. This is a test fight for Pedro and it will determine if he will actually be going up or be shot down to reality. Gilbert Melendez makes his return versus the wild Jeremy Stephens at featherweight. Melendez and Stephens is such a great fight between two seasoned veterans who never disappoint in making a fight exciting. The card isn't the best for a PPV but with two title fights that would make it worth purchasing in my opinion, especially the two title fights we have slated.
For 2017 we are 16-7 after Mairbek Taisumov was able to absolutely demolish his opponent Felipe Silva. Taisumov knocked out Silva in 30 seconds with a vicious punch that put Silva to sleep. Taisumov is such a beast with a bright future and is definitely a rising prospect to watch for. Our ROI is still 38%, with a total investment of $3,889 and winning a total amount of $1,500.
Sara McMann vs Ketlen Vieira
For this card I've decided to take Sara McMann at -247 odds (bet $247 to win $100) McMann is a very powerful wrestler who has gotten better and I can't see her losing unless she gets knocked out flat. Vieira does have the striking advantage but when your facing such a good wrestler like McMann who can dictate the fight and can completely control the fight, I just find it hard to believe Vieira can win. McMann will get the takedown and control Vieira here to win a decision most likely.
Prediction: McMann to win
Stake: 5%
Please remember, while we give out one free prediction for every cards, the real money to be made is through the BOC Consulting services. For seriouse investor only, you may as well want to invest in the world's premier combat sports managed fund right here in order to diversify your personal investment portfolio. I also invite you to join the one and only combat sports betting community and register a free account so you can get access to our chatroom and connect and interact with each other to discuss upcoming match-ups, odds, betting tips, predicitons, news, post fights and follow your favorite handicapping experts on the new social network for combat sports gamers. This means you can follow your mates and top ranked bettors, providing a very cool way to get authentic betting tips to improve your real money bets. We are a community of over 1,000 bettors that is dedicated towards helping each other make money from betting on fights. Start posting your picks, gain followers, build your reputation. For some of you new to the betting world check our betting guide to learn how to bet on fights and our bookmakers review page for the best places to wager online.
Enjoy the event!