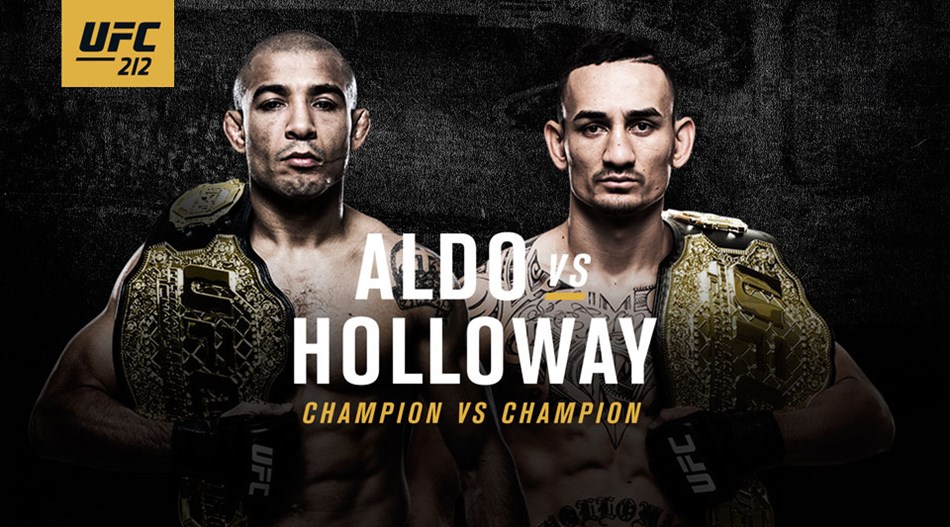 Event: UFC 212
Promotion: UFC
Date: June 3rd, 2017
Arena: Jeunesse
Broadcast: Fox Sports 1 and PPV
The UFC is headed back to Rio de Janeiro, Brazil for UFC 212. The card is headlined by Jose Aldo vs Max Holloway for the unification of the 145 pound belt. Aldo is the current champion and Holloway has the interim belt. Regardless, of weight class these two fighters are some of the best fighters in the sport. Aldo completely ran through Frankie Edgar at UFC 200 to be crowned the interim champion but was eventually crowned the undisputed champion when it was clear McGregor wasn't coming back to 145 so they stripped him of the belt. With all the shuffling that happened, it gave Holloway a chance to fight Anthony Pettis for the 145 pound interim belt at UFC 206 in which Holloway defeated Pettis to become the new interim champion and get his shot at Aldo. In the co-main event we have Claudia Gadelha vs Karolina Kowalkiewicz. Both of these fighters are two of the best strawweights in the world and are working their way back to fight Joanna the champion. The last time Gadelha was in the Jeunesse arena she toppled Jessica Aguilar who was the number one ranked strawweight in the world at the time. Gadelha will look to shine again as she welcomes Kowalkiewicz to Brazil for the first time. As with most Brazilian cards it's basically Brazil vs the world match-ups. Vitor Belfort the former light heavyweight champ takes on Nate Marquardt. Vitor will look to get a win in a much better spot this time. Paulo Borrachinha will take on Oluwale Bamgbose in a fight that will be a slobber knocker and someone is gonna win inside the distance. The crazy flying Erick Silva takes on the slobber puncher Yancy Medeiros. Silva vs Medeiros will be a great fight with two guys looking for a finish. The fight I am looking forward to the most besides Aldo vs Holloway is Marlon Moraes vs Raphael Assuncao. The UFC is throwing Moraes right into the mix to find out if Moraes has what it takes immediately. There is no need to build Moraes either you find out he has it or if he doesn't have it. This potentially could be fight of the night so stay tuned for this one!
For 2017 we are 8-4 and it's totally not what i envisioned but its fighting and anything can happen. Marcin Held just doesn't have it right now and will probably be cut because he has 3 losses in a row against the bottom feeders in his division. Held got totally out fought but is still young but he isn't ready for the big show. Alhassan put up a good fight and was close to stuffing a few take downs but Akhmedov showed his sambo and wrestling and fought well with it and was able to control the fight and win. Our ROI is now 45% with a total investment of $1,768 and winning a total amount of $800.
Vitor Belfort vs Nate Marquardt
For this card I will be taking Vitor Belfort to win at -152 odds (bet $152 to win $100) Belfort at this point is a better fighter than Marquardt and this is a fight to get him a win potentially and have him drive off into the sunset and eventually sign with the real legends division in Bellator. Marquardt may be slick but I can't see him avoiding the power of Belfort for too long so I have Belfort winning by TKO/KO in the first round.
Prediction: Belfort to win
Stake: 5%
Please remember, while we give out one free prediction for every cards, the real money to be made is through the BOC Consulting services. To get official access to our exclusive bets become a Bet on Combat member today http://www.betoncombat.com/accounts/signup/ is where you can sign up. For some of you new to the betting world check our betting guide to learn how to bet on fights and our bookmakers review page for the best places to wager online. Enjoy the event!