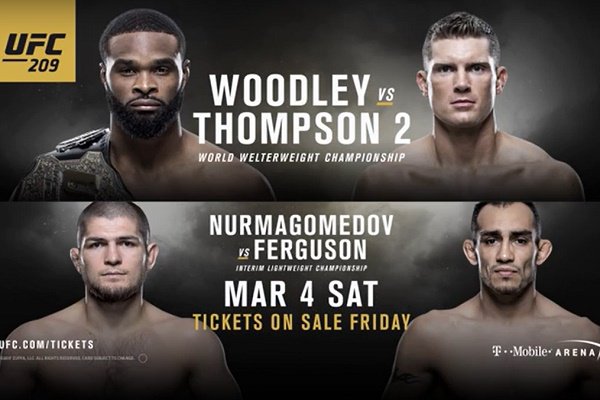 Event: UFC 209
Promotion: UFC
Date: March 4th, 2017
Arena: T-Mobile
City: Las Vegas, Nevada
Broadcast: Fox Sports 1 and PPV
UFC 209 makes its way this weekend with two title fights that are very intriguing and almost must watch TV. In the main event we have Tyron Woodley vs Stephen Thompson. These guys met last year at UFC 205 in a abslute hard fought battle which ended in a draw. Both guys saw what one another had to offer so it will be interesting to see who will make the proper adjustments and reign supreme as the welterweight champion. Will it be Wonderboy? Or the Chosen One Woodley to retain his belt? The co-main event for the interim lightweight title will be Khabib Nurmagomedov vs Tony Ferguson. This has to be the biggest fight so far in 2017 and one hell of a fight I might add. Ferguson is coming off of 9 wins in a row. Nurmagomedov is undefeated. This fight should really be the main event because it is really rare to have two guys fight each other who have been on such impressive streaks. I can't wait for this fight it will be a classic. Other notable fighters on the card is Rashad Evans, Alistair Overeem, Mark Hunt, Lando Vannata, Daniel Kelly, and Mirsad Bektic. Will be interesting to see where Evans stand at this point, hopefully he figures it out at middleweight. Overeem vs Hunt is a great strikers match at heavyweight. Someone will probably get blasted in epic form. Vannata looks to be a special talent on the rise and is a great fighter to watch strike. Bektic is a beast and I do believe he will be champion one day because he is that good and phenomenal.
For 2017 we are 5-0 after Sarah McMann completely destroyed Mazany and Esparza and Markos went over 2 1/2 rounds in a unbelievable fight where Markos was able to pull off the big upset over Esparza. The McMann fight was a squash match not much to say other than McMann is levels above Mazany. No surprise Esparza and Markos went over 2 1/2 rounds. Both aren't the greatest finishers and both could totally neutralize each other to make it go back and forth. 2017 brings our ROI to 57%, a total investment of $867 and winning a total amount of $500.
Lando Vannata vs David Teymur
Mirsad Bektic vs Darren Elkins
I will be doing a 2 man parlay of Vannata to win and over 1.5 rounds with Bektic vs Elkins at +119 odds (bet $100 to win $119) Vannata is a better fighter and technical striker compared to Teymur. I expect Vannata to takes this inside the distance as well, most likely by TKO/KO. Bektic vs Elkins will be a chess match. A heavily contested grappling chess match I might add. Both guys are known for their wrestling and grappling so I think it will cancel each others grappling out to hit past the 1.5 mark in the fight.
Prediction: Parlay of Vannata to win and over 1.5 rounds with Bektic vs Elkins.
Stake: 3%
Please remember, while we give out one free prediction for every cards, the real money to be made is through the BOC Consulting services. To get official access to our exclusive bets become a Bet on Combat member today http://www.betoncombat.com/accounts/signup/ is where you can sign up. For some of you new to the betting world check our betting guide to learn how to bet on fights and our bookmakers review page for the best places to wager online. Enjoy the event!
---
---
Great article once again Richard. Love the prediction!
by Francombat on March 1, 2017, 2:57 a.m.
Awesome! I always enjoy reading you Richard. Good luck to you my friend!
by FightNumbers on March 1, 2017, 3:02 a.m.
Thanks!
by RickyRider on March 1, 2017, 4:47 a.m.
---