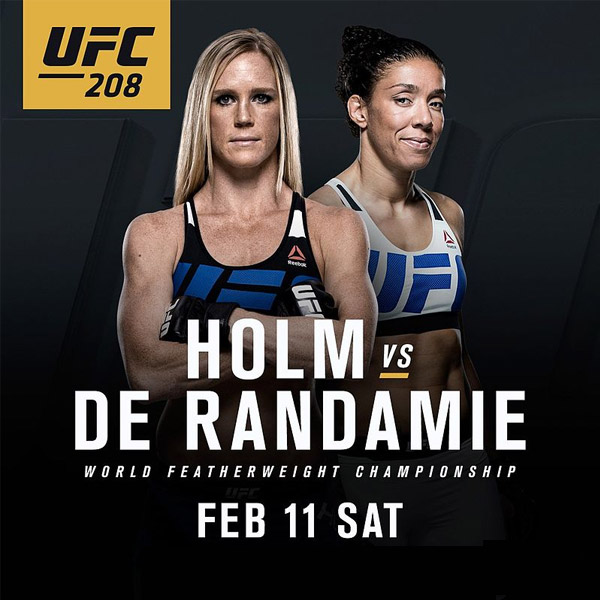 Event: UFC 208
Promotion: UFC
Date: February 11th, 2017
Arena: Barclays Center
City: Brooklyn, New York
Broadcast: Fox Sports 1 and PPV
The UFC has planned another night of things to happen that we haven't seen before. The first ever women's featherweight title will be on the line as Holly Holm takes on Germaine De Randamie for the 145 pound strap. You have to wonder no matter who wins how long will the featherweight division will last for the women because the talent pool is super thin and the division was made so Cyborg can just wreck people because people love watching her fight. Will be interesting to see how Holm can deal with the powerful striker in De Randamie because it's a tough matchup for Holm Stylistically. De Randamie has fought no where near the same level of fighters as Holm so this a big step up for her as well. Anderson Silva makes his return after taking a fight on super short notice vs Daniel Cormier at UFC 200. Silva will take on the surging middleweight Derek Brunson who will look to get back in the win column after losing to Robert Whittaker last year. If Silva has a chance to beat anyone in the top 10 at middleweight it's Brunson because he matches well vs him. This PPV is actually the weakest one I can remember in a long time but there still is exciting fights to watch like always and will be interesting to see how a few pan out. Poirier vs Miller will be a scrap, Reis gets another can to smash, LaFlare makes his long awaited return, and McCall can finally say he's fighting someone it what seems a laughable curse with guys pulling out vs him. None the less you won't want to miss it!
For 2017 we are 3-0 after Khalil Rountree landed a devastating knee on Daniel Jolly when he tried to shoot in for a take down in which Rountree landed it perfect on the button. Not sure what is next for Rountree but please work on your ground game and take down defense because guys are gonna try to grapple him all day every day. 2017 brings our ROI to 57%, a total investment of $521 and winning a total amount of $300.
Jacare Souza vs Tim Boetsch
Wilson Reis vs Ulka Sasaki
For this card I took Jacare to win inside the distance and Reis to win straight up at -176 odds for a 2 man parlay (bet $176 to win $100) Jacare is a beast skill wise and Boetsch just isn't on his level. Jacare can win any way he wants really but most likely it will be by submission so betting Jacare by submission is a great bet as well. Like Jacare, Reis is fighting a guy he is just better than. Reis vs Sasaki is grappler vs grappler but Reis is the better grappler and wrestler who is more powerful than Sasaki. Both guys will win handily so get them in your parlays and what not.
Prediction: 2 man parlay-Jacare to win inside the distance and Reis to win straight up.
Stake: 3%
Please remember, while we give out one free prediction for every cards, the real money to be made is through the BOC Consulting services. To get official access to our exclusive bets become a Bet on Combat member today http://www.betoncombat.com/accounts/signup/ is where you can sign up. For some of you new to the betting world check our betting guide to learn how to bet on fights and our bookmakers review page for the best places to wager online. Enjoy the event!