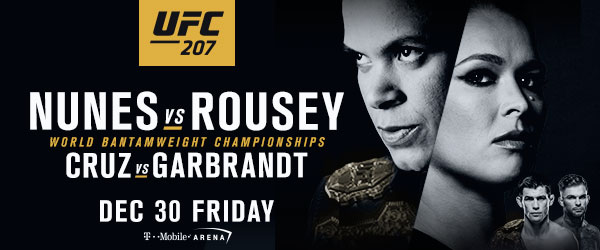 Event: UFC 207
Promotion: UFC
Date: December, 30th 2016
Arena: T-Mobile
City: Paradise, Nevada
Broadcast: Fox Sports 1 and PPV
Finally, Rousey makes her long awaited return vs a very tough opponent in Amanda Nunes. You have to wonder where the head space of Rousey is because she has completely avoided the media up to this point and she's about to have the biggest fight of her career that will determine how legendary she will be. We are about to find out how good Garbrandt really is because Cruz is on a whole different level and it's like fighting a bee when you fight Cruz a very skilled bee at that. Velasquez pulling out vs Werdum is no surprise, the guys at AKA just can't never stay healthy and maybe Cain should get his back surgery before he comes back. Lineker vs Dillashaw is almost the same fight as Cruz vs Garbrandt. Speed and movement vs power. Lineker will have to land a bomb to beat Dillashaw because we all know it's unlikely to win via decision. If Lineker wins this fight a title shot is coming his way so we shall see how good he can really be. Our last prediction was a parlay of Faber and Covington. Faber was setup to win vs Pickett and he put on a great display vs Pickett. Faber dominated the fight almost everywhere and it's good to see cause he's a legend in MMA and we wish nothing but the best for a guy who put the little guys on the map to get the recognition they derserve. Covington is a beast, his wrestling and style will cause big trouble for some guys and I can potentially see him being very good. Barberena just had no answer for the skill level of Covington and his wrestling was just way too much. Another fine job by Covington and the future is bright.
A total of 36 predictions have been made since January 2016 with a record of 29-7 which is 80.6% accuracy.
Dominick Cruz vs Cody Garbrandt
Brandon Thatch vs Niko Price
I will be doing a 2 man parlay of Cruz and Thatch at +128 (bet $100 to $128) Cruz is just better than Garbrandt and is way more skilled. Garbrandt has never faced this style of fighter and the intelligence of Cruz to be able to get in your head with his trash talking and his fighting style in the octagon will be too much for a young fighter in Garbrandt. Garbrandt is a emotional guy and watch him get frustrated in the octagon if he can't get to Cruz and if that starts to happen he is doomed. Garbrandt literally has a punchers chance and I am not banking on it to happen. This is the end of the road for Thatch. If he loses here he probably gets cut by the UFC. I feel Thatch is being setup to win this fight and get him in the win column. Price isn't as good as Thatch anywhere and while this fight will be all standing I have to side with the better fighter and striker who is Thatch in this spot.
Prediction: Cruz and Thatch parlay
Stake: 3%
Please remember, while we give out one free prediction for every cards, the real money to be made is through the BOC Consulting services. To get official access to our exclusive bets become a Bet on Combat member today http://www.betoncombat.com/accounts/signup/ is where you can sign up. For some of you new to the betting world check our betting guide to learn how to bet on fights and our bookmakers review page for the best places to wager online. Enjoy the event!