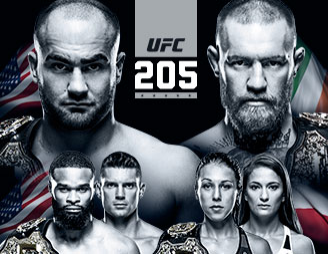 Event: UFC 205
Promotion: UFC
Date: November 12th, 2016
Arena: Madison Square Garden
City: New York City, New York
Broadcast: Fox Sports 1 and PPV
Finally, the biggest card in MMA history is here and just like the rest of you I can't wait to see how it all plays out! Our last prediction was Sam Alvey at -217 to win. His fight with Alex Nicholson was a absolute nail bitter and played out how everybody envisioned. Both guys standing and trading the whole time but Alvey couldn't seem to find his range or target until it got midway through the 2nd round. The altitude was a huge problem for both guys, Nicholson completely gassed compared to Alvey and the altitude really affected Alvey's power to where he couldn't get off a huge shot to end it. In the end Alvey was really the fighter that completely wanted it more and out struck his opponent to win a decision. Nicholson had the perfect game plan to where he would stay at range and use leg kicks and punches but for some reason totally went away from that probably because he had nothing left and the gas tank got empty. Our free predictions are now 24-6 which is 80% accuracy.
A total of 30 free predictions have been made since January 2016, with a record of 24-6. Had you placed a $100.00 bet on every prediction, you would've bet a total of $3,000 and had a total outcome of $2,400 winning a profit of $1,458.80 with a return on investment (ROI) of 48.6% (profit divided by total amount risked) using the industry standard metric of a $100 bettor, that's how much you would have currently made following Bet on Combat free predictions.
Strawweight Bout: Joanna Jedrzejczyk vs Karolina Kowalkiewicz
Featherweight Bout: Frankie Edgar vs Jeremy Stephens
For UFC 205 I will be taking Jedrzejczyk and Edgar for a 2 man parlay at -164 (bet $164 to win $100) Saying someone is unbeatable in the sport of MMA is blasphemy but you know what I am gonna say it. Joanna is unbeatable currently at 115 pounds. We have seen her vs wrestlers, submission fighters, and other strikers and to be honest nobody has even come close to beating her. The gap in skill with Joanna vs Karolina is huge. Karolina may land some knees in the clinch to zap the energy out of Joanna but I just don't see Karolina being able to withstand the offensive fire power of Joanna. Joanna wins by decision. Frankie Edgar is a better skilled martial artist than Jeremy Stephens and I mean everywhere better except for power in striking. The feints, footwork, timed shots, and the wrestling skill of Edgar will give Stephens a lot to think about and I do not see Stephens being able to hang with the much faster and skilled fighter in Frankie Edgar. Edgar wins by round 3 TKO.
Prediction: Jedrzejczyk and Edgar to win
Odds: -164
Stake: 5%
Please remember, while we give out one free prediction for every cards, the real money to be made is through the BOC Consulting services. To get official access to our exclusive bets become a Bet on Combat member today http://www.betoncombat.com/accounts/signup/ is where you can sign up. For some of you new to the betting world check our betting guide to learn how to bet on fights and our bookmakers review page for the best places to wager online. Enjoy the event!