UFC on Fox: Gustafsson vs. Johnson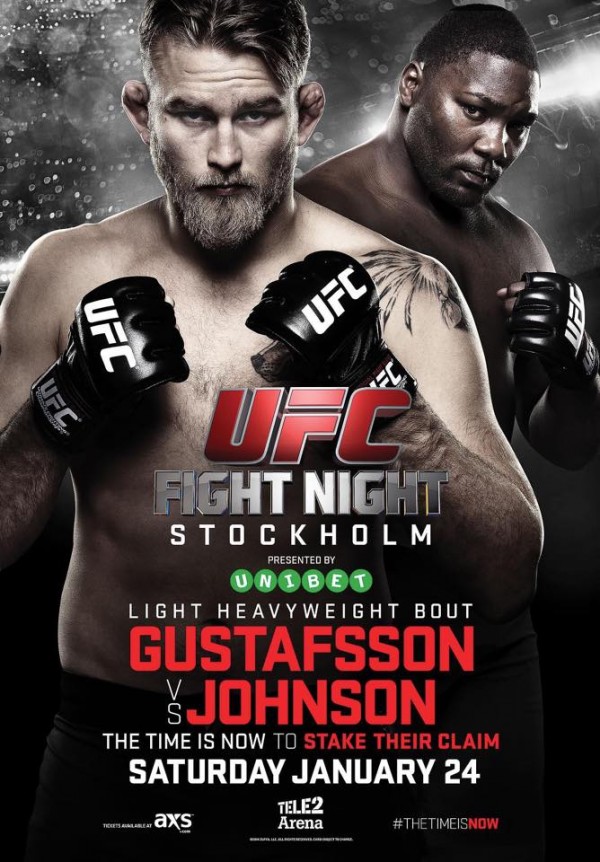 | | |
| --- | --- |
| Sport: | MMA |
| Promotion: | UFC |
| Date: | Jan. 24, 2015 |
| Venue: | Tele2 Arena |
| City: | Stockholm, Sweden |
| Broadcast: | Fox Sports |
Parlay Bet
Alexander Gustafsson (-300) Gerard Mousasi (-525) Phil Bader (-235) - (+126)
Gegard Mousasi vs. Dan Henderson (UFC on Fox: Gustafsson vs. Johnson)
Alexander Gustafsson vs. Anthony Johnson (UFC on Fox: Gustafsson vs. Johnson)
Ryan Bader vs. Phil Davis (UFC on Fox: Gustafsson vs. Johnson)
Breakdown
Alexander Gustafsson vs Anthony Johnson
I feel Gustaffson is the more slicker and technical of the two fighters on the feet and the footwork of Gustafsson will be hard to deal with if Johnson just chooses to strike with Gustaffson. I have Gustaffson by TKO.
Ryan Bader vs Phil Davis
Bader is the better striker and Davis take downs are not the greatest. I think Bader beats him based off of his work rate and using his superior boxing skills to out land and out point Davis to win a decision.
Gegard Mousasi vs Dan Henderson
It has to be father time for Dan Henderson and I don't see him landing the H-Bomb in this fight. Mousasi is the much better fighter than 2015 Dan Henderson and he will use great striking skills to eventually KO Henderson.
Prediction
Alexander Gustafsson (-300) Gerard Mousasi (-525) Phil Bader (-235) - Parlay Bet
Odds:
+126
Risk:
$2500.00
To Win:
$3150.00
Outcome:
Loss
Outcome:
Anthony Johnson defeats Alexander Gustafsson via TKO at 2:15 of round 1.
Gegard Mousasi defeats Dan Henderson via TKO (punches) at 1:10 of round 1.
Ryan Bader defeats Phil Davis via Decision (split) (29–28, 28–29, 29–28).
Loss