UFC Fight Night: Whittaker vs. Brunson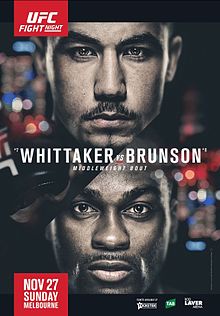 | | |
| --- | --- |
| Sport: | MMA |
| Promotion: | UFC |
| Date: | Nov. 26, 2016 |
| Venue: | Rod Laver Arena |
| City: | Melbourne, Australia |
| Broadcast: | Fox Sport 1 |
Parlay Bet
Jake Matthews (-300) Alexander Volkanovski (-160) - (+117)
Alexander Volkanovski vs. Yusuke Kasuya (UFC Fight Night: Whittaker vs. Brunson)
Jake Matthews vs. Andrew Holbrook (UFC Fight Night: Whittaker vs. Brunson)
Breakdown
Jake Matthews vs Andrew Holbrook
Matthews is just the better athlete with more tools in his game. Holbrook doesn't have the athleticism or skills to match Matthews. Matthews by submission.
Alexander Volkanovski vs Yusuke Kasuya
Kasuya has issues stopping power and wrestling where Volkanovski has edges in these departments against him. Volkanovski has the slightly better skills and should out point and out wrestle Kasuya. Volkanovski by decision.
Stake: 3%
Prediction
Jake Matthews (-300) Alexander Volkanovski (-160) - Parlay Bet
Odds:
+117
Risk:
$2500.00
To Win:
$2925.00
Outcome:
Loss
Outcome:
Andrew Holbrook defeats Jake Matthews via Decision (split) (29-28, 28-29, 29-28).
Alex Volkanovski defeats Yusuke Kasuya via TKO (punches) at 2:06 or round 2.
Loss
Prop Bet
Under 2 1/2 rounds (+105)
Robert Whittaker vs. Derek Brunson
Breakdown
Robert Whittaker vs Derek Brunson Under 2 1/2 Rounds
Brunson has been on a finishing tear and Whittaker is a absolute technical striker with power to finish. I only see this fight going as Brunson catches Whittaker with strikes while he comes forward a lot or Whittaker lands a huge counter strike because Brunson likes to over extend too much on a straight line and can be knocked out because of this.
Stake: 3%
Prediction
Under 2 1/2 rounds - Straight Bet
Odds:
+105
Risk:
$2500.00
To Win:
$2625.00
Outcome:
Win
Outcome:
Robert Whittaker defeats Derek Brunson via TKO (head kick and punches) at 4:07 of round 1.
Win