UFC Fight Night: MacDonald vs. Saffiedine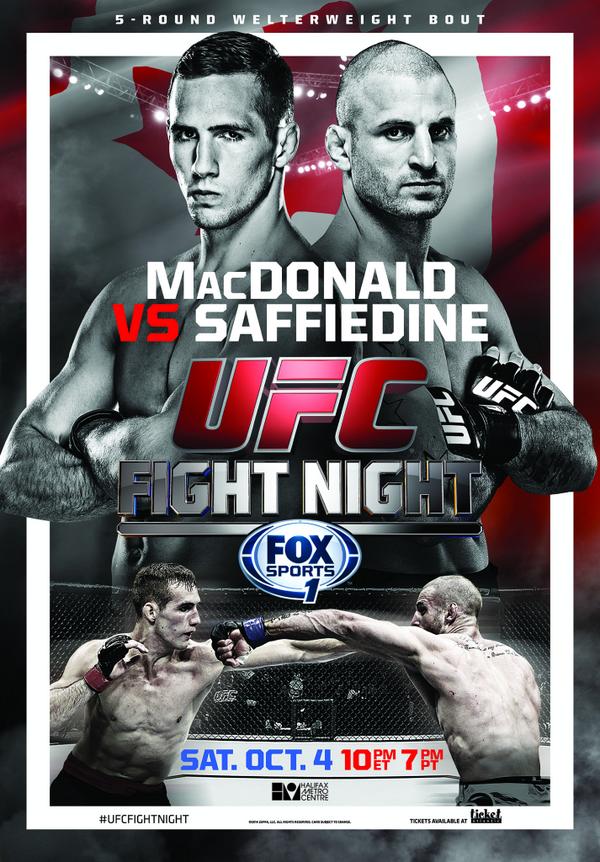 | | |
| --- | --- |
| Sport: | MMA |
| Promotion: | UFC |
| Date: | Oct. 4, 2014 |
| Venue: | Scotiabank Centre |
| City: | Halifax, Nova Scotia |
| Broadcast: | Fox Sports 1 |
Parlay Bet
Rory MacDonald (-450) Olivier Aubin-Mercier (-320) - (-166)
Olivier Aubin-Mercier vs. Jake Lindsey (UFC Fight Night: MacDonald vs. Saffiedine)
Rory MacDonald vs. Tarec Saffiedine (UFC Fight Night: MacDonald vs. Saffiedine)
Breakdown
Rory MacDonald vs Tarec Saffiedine
I am taking MacDonald in this one because he is more diverse in his striking and he is the better fighter with more paths to victory. Rory can strike or use his wrestling vs Saffiedine and should be able to hold his own. I have Rory by decision.
Olivier Aubin-Mercier vs Jake Lindsey
OAM clinch wrestling and transition grappling is very good and Lindsey is not polished anywhere he has many flaws to his game. The wrestling and grappling should be enough for him to take this fight and win by submission.
Stake: 10%
Prediction
Rory MacDonald (-450) Olivier Aubin-Mercier (-320) - Parlay Bet
Odds:
-166
Risk:
$10000.00
To Win:
$6024.10
Outcome:
Win
Outcome:
Rory MacDonald defeats Tarec Saffiedine via TKO (punches) at 1:28 of round 3.
Olivier Aubin-Mercier defeats Jake Lindsey via submission (inverted triangle americana) at 3:22 of round 2.
Win