UFC Fight Night: Gonzaga vs. Cro Cop 2 / Bellator 136: Brooks vs. Jansen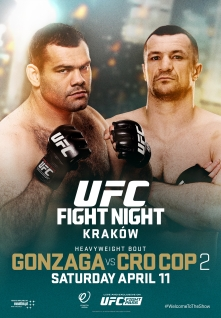 | | |
| --- | --- |
| Sport: | MMA |
| Promotion: | UFC |
| Date: | April 11, 2015 |
| Venue: | Krakow Arena |
| City: | Krakow, Lesser Poland, Poland |
| Broadcast: | Fox Sport 1 |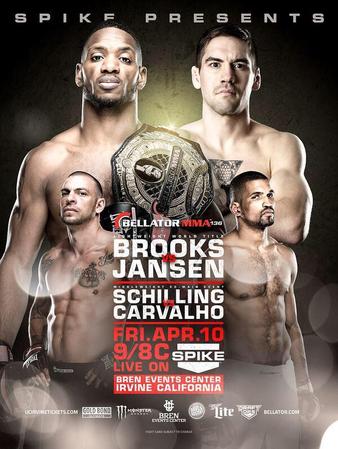 | | |
| --- | --- |
| Sport: | MMA |
| Promotion: | Bellator |
| Date: | April 10, 2015 |
| Venue: | Bren Events Center |
| City: | Irvine, California, United States |
| Broadcast: | |
Parlay Bet
Will Brook (-600) Joanne Calderwood (-550) Sergio Moraes (-370) - (-133)
Sergio Moraes vs. Mickael Lebout (UFC Fight Night: Gonzaga vs. Cro Cop 2)
Joanne Calderwood vs. Maryna Moroz (UFC Fight Night: Gonzaga vs. Cro Cop 2)
Will Brooks vs. Dave Jansen (Bellator 136: Brooks vs. Jansen)
Breakdown
Will Brooks vs Dave Jansen
Neither fighter will prolly score a finish in this bout. Jansen isn't as strong as a wrestler as Chandler is and without that ability vs Brooks I don't see how Jansen can win. Brooks is just too strong and has great wrestling so I see him controlling Jansen and scoring some takedowns to win a decision.
Joanne Calderwood vs Maryna Moroz
Joanne has the striking edge on the feet and Moroz only chance to win is on the ground and I don't think she has the skills to get it to the ground. Moroz is very hittable on the feet as well because her defense isn't tight. Joanne should dominate her on the feet and get a TKO.
Sergio Moraes vs Mickael Lebout
I don't see how Lebout will be able to stop the grappling of Moraes and Lebout is taking the fight on short notice. He will overwhelm Lebout with his grappling and get a easy submission victory.
Prediction
Will Brook (-600) Joanne Calderwood (-550) Sergio Moraes (-370) - Parlay Bet
Odds:
-133
Risk:
$1500.00
To Win:
$1127.82
Outcome:
Loss
Outcome:
Will Brook defeats Dave Jansen via unanimous decision (49-46, 49-46, 49-46).
Maryna Moroz defeats Joanne Calderwood via Submission (armbar) - Round 1, 1:30
Sergio Moraes defeats Mickael Lebout via unanimous decision (29-28, 29-28, 29-28).
Loss