UFC Fight Night: Bisping vs. Leites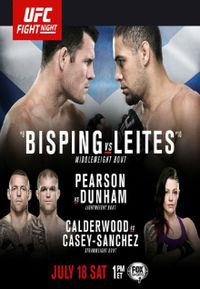 | | |
| --- | --- |
| Sport: | MMA |
| Promotion: | UFC |
| Date: | July 18, 2015 |
| Venue: | Hydro SSE Arena |
| City: | Glasgow, Scotland, Scotland |
| Broadcast: | |
Parlay Bet
Michael Bisping (-110) Joseph Duffy (-800) - (+115)
Michael Bisping vs. Thales Leites (UFC Fight Night: Bisping vs. Leites)
Joseph Duffy vs. Ivan Jorge (UFC Fight Night: Bisping vs. Leites)
Breakdown
Michael Bisping vs Thales Leites
Bisping is the better overall fighter and I just can't see Leites being able to out last the striking of Bisping especially in the later rounds. Bisping will start slow, stuff takedowns, tire out leites and win a clear decision here by out boxing Leites.
Joseph Duffy vs Ivan Jorge
This fight is just a total mismatch and I feel Duffy can win this fight any way he wants to. Jorge hasn't even fought anyone good and is now facing a good fighter. Duffy wins via KO.
Stake: 7%
Prediction
Michael Bisping (-110) Joseph Duffy (-800) - Parlay Bet
Odds:
+115
Risk:
$7000.00
To Win:
$8050.00
Outcome:
Win
Outcome:
Michael Bisping defeats Leites Thales via split decision (47-48, 49-46, 48-47).
Joseph Duffy defeats Ivan Jorge via Submission (triangle choke) at 3:05 of round 1.
Win
Straight Bet
Evan Dunham (+185)
Ross Pearson vs. Evan Dunham
Breakdown
Ross Pearson vs Evan Dunham
Dunham will use his aggressive pressure game to overwhelm Pearson. I can see Pearson rolling or slipping into something that can hurt him. Pearson struggles with more athletic strikers who are also more technical. All these factors favor Dunham to take a close decision and win by split.
Stake: 5%
Prediction
| | | |
| --- | --- | --- |
| Ross Pearson | vs. | Evan Dunham |
| -220 | Odds | +185 |
| 68.8% | Market % | 35.1% |
| 32.00% | Bet on Combat % | 68.00% |
| -36.8% | Inefficiency % | +32.9% |
Evan Dunham - Straight Bet
Odds:
+185
Risk:
$1500.00
To Win:
$2775.00
Outcome:
Win
Outcome:
Evan Dunham defeats Ross Pearson via Decision (unanimous) (30–27, 30–27, 29–28)
Win