UFC Fight Night: Bigfoot vs. Mir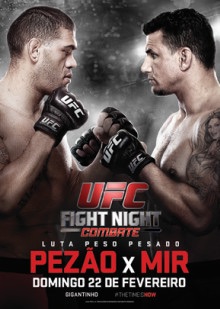 | | |
| --- | --- |
| Sport: | MMA |
| Promotion: | UFC |
| Date: | Feb. 22, 2015 |
| Venue: | Ginasio Gigantinho |
| City: | Porto Alegre, Brazil. |
| Broadcast: | Fox Sports |
Parlay Bet
Rustam Khabilov (-425) Luri Alcantara (-455) William Macario (-260) - (+109)
Iuri Alcantara vs. Frankie Saenz (UFC Fight Night: Bigfoot vs. Mir)
Rustam Khabilov vs. Adriano Martins (UFC Fight Night: Bigfoot vs. Mir)
William Macario vs. Matt Dwyer (UFC Fight Night: Bigfoot vs. Mir)
Breakdown
Rustam Khabilov vs Adriano Martins
Khabilov almost owns all the technical advantages in this fight and is the better fighter. I don't see anywhere Martins can thrive in this fight so I'll have Khabilov winning in a lopsided decision.
Luri Alcantra vs Frankie Saenz
This is like a step down in competition for Iuri. The only thing to consider is Iuri defensive wrestling which I don't think will be a problem because he has been training a lot of wrestling at Jackson-Wink. Iuri doesn't do anything poorly and and I don't think Saenz can handle his speed and power. Iuri by decision.
William Macario vs Matt Dwyer
I see Macario being able to get past the reach of Dwyer and when he does he will be able to land some massive punches. Dwyer is too raw in his skills and Macario is more polished so I see him taking this fight away from Dwyer in TKO victory.
Stake:
Prediction
Rustam Khabilov (-425) Luri Alcantara (-455) William Macario (-260) - Parlay Bet
Odds:
+109
Risk:
$3000.00
To Win:
$3270.00
Outcome:
Loss
Outcome:
Adriano Martins defeats Rustam Khabilov via Decision (split) (29–28, 28–29, 29–28).
Frankie Saenz defeats Luri Alcantra via Decision (unanimous) (30–27, 30–27, 29–28).
Matt Dwyer defeats William Macario via KO (superman punch) at 3:14 of round 1.
UFC Fight Night 61. The night of the underdogs go 10-1 on the card. I never seen anything like it in all my years of betting on combat sports.
Loss
Straight Bet
Frank Mir (+140)
Frank Mir vs. Antonio Silva
Breakdown
Frank Mir vs Bigfoot Silva
Silva in my opinion is the more shot fighter and he is coming off TRT which won't be a good thing because most guys are not the same when the juice comes off them. Mir seems to have improved striking which would help hang in with Silva because it won't be easy getting Bigfoot down and i see the quicker Mir landing some shots to win by TKO.
Stake:
Prediction
| | | |
| --- | --- | --- |
| Frank Mir | vs. | Antonio Silva |
| -170 | Odds | +140 |
| 63.0% | Market % | 41.7% |
| 32.00% | Bet on Combat % | 68.00% |
| -31.0% | Inefficiency % | +26.3% |
Frank Mir - Straight Bet
Odds:
+140
Risk:
$2500.00
To Win:
$3500.00
Outcome:
Win
Outcome:
Frank Mir defeats Antonio Silva via KO (punches and elbows) at 1:40 of round 1.
Win