UFC Fight Night 78: Magny vs. Gastelum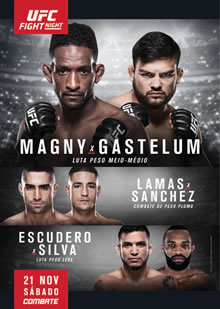 | | |
| --- | --- |
| Sport: | MMA |
| Promotion: | UFC |
| Date: | Nov. 21, 2015 |
| Venue: | Monterrey Arena |
| City: | Monterrey, Nuevo Leon, Mexico |
| Broadcast: | |
Parlay Bet
Kelvin Gastelum vs. Neil Magny Fight goes the distance (+145) Ricardo Lamas (-400) Henry Cejudo (-450) - (+274)
Jussier Formiga vs. Henry Cejudo (UFC Fight Night 78: Magny vs. Gastelum)
Ricardo Lamas vs. Diego Sanchez (UFC Fight Night 78: Magny vs. Gastelum)
Kelvin Gastelum vs. Neil Magny (UFC Fight Night 78: Magny vs. Gastelum)
Breakdown
Kelvin Gastelum vs Neil Magny
Both guys are tough to finish and the way they matchup should be a back and forth battle with both guys having their moments. Magny only gets out classed vs elite grapplers and I don't see Gastelum being able to finish him. Gastelum doesn't get finished either and can take a punch so both guys cross each other out in which should be a great fight. The Fight Goes The Distance.
Ricardo Lamas vs Diego Sanchez
Diego has fallen off a while ago. Lamas is a cut above Diego in who he has beaten and at this point is a better fighter and striker. I see see Lamas out classing Diego on the feet to win a decision.
Jussier Formiga vs Henry Cejudo
I don't think Formiga can keep up the pace with Cejudo. Cejudo is the better grappler, quicker striker, and more durable. Cejudo will out strike Formiga with a hellacious pace to win a unanimous decision.
Stake: 3.5%
Prediction
Kelvin Gastelum vs. Neil Magny Fight goes the distance (+145) Ricardo Lamas (-400) Henry Cejudo (-450) - Parlay Bet
Odds:
+274
Risk:
$3500.00
To Win:
$9590.00
Outcome:
Win
Outcome:
Neil Magny defeats Kelvin Gastelum via slip decision (47-48, 48-47, 48-47).
Ricardo Lamas defeats Diego Sanchez via unanimous decision (30-27, 30-27, 30-27).
Henry Cejudo defeats Jussier Formiga via slip decision (30-27, 28-29, 30-27).
Win