UFC 83: Serra vs. St-Pierre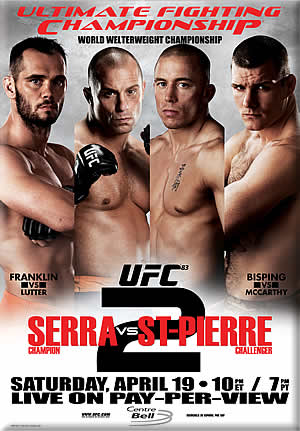 | | |
| --- | --- |
| Sport: | MMA |
| Promotion: | UFC |
| Date: | April 19, 2008 |
| Venue: | Bell Center |
| City: | Montreal |
| Broadcast: | PPV |
Straight Bet
Georges St-Pierre (-450)
Matt Serra vs. Georges St. Pierre
Breakdown
St. Pierre vs. Matt Serra
Georges will be out for blood and prove what Serra did was a fluke. Georges is the better all around fighter and is way more skilled. I think Georges will make a statement and finish Serra early.
Georges St. Pierre is regarded by many to be the best pound-for-pound fighter in the UFC right now. He is scary good and just seems to improve with every fight. He recently took apart Matt Hughes at UFC 79 - Nemesis and will be looking to avenge his UFC 69 loss to Matt Serra.
When Matt Serra knocked out GSP and completed his road to a comeback, the whole world was shocked. He caught GSP right on the chin, stunned him, and followed up with a barrage of strikes. GSP has admitted that he didn't come into that fight mentally prepared , and it showed when he was lying flat on the octagon canvas. GSP is coming off of a complete dismantling of former UFC welterweight champion Matt Hughes and earned a rematch with Serra. A focused GSP is a scary GSP. We have seen him in this position before in his second bout with Matt Hughes, and GSP controlled every second of that fight.
Still, Matt Serra is no pushover. He is a Renzo Gracie black belt and, as we have seen, he has some pretty heavy hands. Like the rest of the world, I want to see whether this victory was a fluke or if Matt Serra is a name that is going to be around MMA for awhile.
Was his victory against St. Pierre a fluke, or is Serra really that good?
It's hard to call this one, but I think a refreshed, invigorated GSP is going to pull off a victory. For some reason I am thinking head kick.
Stake: 12%
Prediction
| | | |
| --- | --- | --- |
| Matt Serra | vs. | Georges St. Pierre |
| +350 | Odds | -450 |
| 22.2% | Market % | 81.8% |
| 25.00% | Bet on Combat % | 75.00% |
| +2.8% | Inefficiency % | -6.8% |
Georges St-Pierre - Straight Bet
Odds:
-450
Risk:
$25000.00
To Win:
$5555.56
Outcome:
Win
Outcome:
Georges St-Pierre defeats Matt Serra via TKO (knees to the body) at 4:45 of round 2.
Georges St-Pierre answered all the questions about his mental game and ability to perform under pressure. Fighting in front of his home crowd of 22,00 against a man who previously TKO'd him was a ton of pressure for St-Pierre. GSP looked great, if a bit hesitant to stand and engage with Serra, but you can't fault him for that. The knees that ended the fight were brutal. The question that opened up now is what is GSP's weakness? Matt Serra took teh loss like a man.
Win