UFC 243: Whittaker vs. Adesanya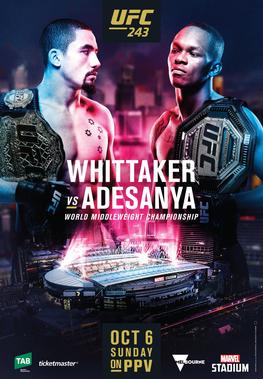 | | |
| --- | --- |
| Sport: | MMA |
| Promotion: | UFC |
| Date: | Oct. 6, 2019 |
| Venue: | Marvel Stadium |
| City: | Melbourne, Australia |
| Broadcast: | Pay-Per-View |
Straight Bet
Israel Adesanya (-107)
Robert Whittaker vs. Israel Adesanya
Breakdown
Robert Whittaker vs. Israel Adesanya
Whittaker (20-4) is the UFC middleweight champion. The New Zealand-born Australian is 11-2 in the UFC including a perfect 8-0 record in the middleweight division. Whittaker is the more well-rounded fighter, and has proven he has knockout power during his career as both a welterweight and middleweight.
Adesanya (17-0) is the UFC interim middleweight champion. The Nigerian-born New Zealander is a perfect 6-0 in the UFC with wins over Kelvin Gastelum, Anderson Silva, Derek Brunson and Brad Tavares. This is one of the best middleweight title fights of all time, if not the best. It's a very close fight between two men who would beat the majority of the other middleweights on the roster, but only one man can win.
Whittaker opened as the favorite, but since then the line has essentially become a Pick 'em fight. I'm thinking Adesanya gets it done here. Using his well-timed strikes and distance control to pick apart Whittaker from the outside. Whittaker should be able to get his own shots in but not without having to eat a few coming in to close the distance. While I think Whittaker is more than capable of winning due to his great striking skills and able to mix it up against the cage and with takedowns, I don't think it'll be enough with Adesanya dictating the distance and picking his shots against Whittaker.
This is the biggest bet of the year so far, and I believe Adesanya can get it done inside the distance.
Stake: 10%
Prediction
| | | |
| --- | --- | --- |
| Robert Whittaker | vs. | Israel Adesanya |
| -110 | Odds | -107 |
| 52.4% | Market % | 51.7% |
| 35.00% | Bet on Combat % | 65.00% |
| -17.4% | Inefficiency % | +13.3% |
Israel Adesanya - Straight Bet
Odds:
-107
Risk:
$250000.00
To Win:
$233644.86
Outcome:
Win
Outcome:
Israel Adesanya defeats Robert Whittaker via KO (punches) at 3:33 of round 2.
Whittaker did have his moments and landed some big shots. But Adesanya landed a short right counter right at the end of the first round that put Whittaker on his butt. In the second, he landed the counter again. And when it came time, he used a deft left-hand counter to put Whittaker down again. This time there was no horn to save him, and he got pounded out.
Win