UFC 230: Cormier vs. Lewis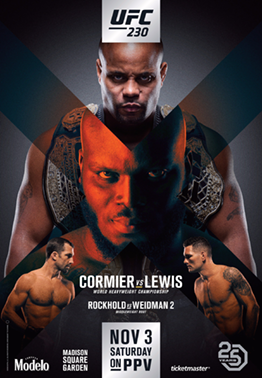 | | |
| --- | --- |
| Sport: | MMA |
| Promotion: | UFC |
| Date: | Nov. 3, 2018 |
| Venue: | Madison Square Garden |
| City: | New York City, New York |
| Broadcast: | Pay-per-view |
Straight Bet
Daniel Cormier (-410)
Daniel Cormier vs. Derrick Lewis
Breakdown
Daniel Cormier vs. Derrick Lewis
Cormier (21-1, 1 NC) is 39 and he's 10-1, 1 NC in the UFC. The American is the UFC's No. 1 pound-for-pound fighter, set to defend his heavyweight title this weekend. Lewis (21-5, 1 NC) is 35 and he's 12-3 in the UFC. So far, the American has been impressive with 10 knockout wins in the UFC alone. This is a pretty one-sided matchup. How quickly people forget that Derrick Lewis was part of, arguably, the worst fight in UFC history two fights ago. He lost 14 minutes on the Volkov fight before the KO. Lewis has great striking power, but Cormier probably won't even give Derrick the chance to even hurt him as he may look to get this fight to the ground as immediately as he can. Cormier has the huge edge in striking, cardio, wrestling, and fight IQ. Cormier can dominate Lewis on the ground and he can also hurt Lewis with his striking or pick him apart. I think Cormier will get a late stoppage once Lewis gets tired and knock him out inside 2 rounds.
Stake: 12%
Prediction
| | | |
| --- | --- | --- |
| Daniel Cormier | vs. | Derrick Lewis |
| -410 | Odds | +305 |
| 80.4% | Market % | 24.7% |
| 80.00% | Bet on Combat % | 20.00% |
| -0.4% | Inefficiency % | -4.7% |
Daniel Cormier - Straight Bet
Odds:
-410
Risk:
$250000.00
To Win:
$60975.61
Outcome:
Win
Outcome:
Daniel Cormier defeats Derrick Lewis via Submission (rear-naked choke) at 2:14 of round 2.
This may not be the biggest athletic mismatch in UFC history, but it's somewhere near the top of the list. Lewis certainly deserved this title shot, but he also needed to land a massive one in a million punch to actually win it. Cormier gave him almost no opportunities to do so. The second Lewis went anywhere near the fence, Cormier was in on his hips and the fight was finished soon after once Cormier was able to get him down and submit. Not much else to say in this dominant win for Cormier.
Win