UFC 217: Bisping vs. St-Pierre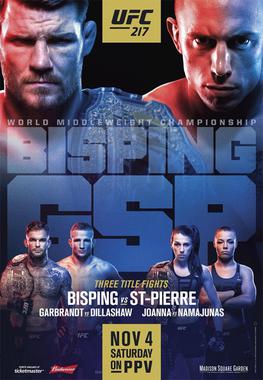 | | |
| --- | --- |
| Sport: | MMA |
| Promotion: | UFC |
| Date: | Nov. 4, 2017 |
| Venue: | Madison Square Garden |
| City: | New York, New York, USA |
| Broadcast: | Pay-Per-View |
Straight Bet
Georges St-Pierre (-105)
Michael Bisping vs. Georges St. Pierre
Breakdown
Tim Kennedy laid out the blueprint to beating Bisping and GSP mixes up his strikes and takedowns far better than Kennedy. If GSP is 80 percent of the fighter that retired in 2013 he will keep Bisping guessing and place him on the mat numerous times. I don't like GSP at 185-pounds, but I think this is a good matchup for him to pick up a win. Bisping does not look that much bigger than George! It was very surprising. I think George is going to double leg blast Michael, drag him down, etc for much of the fight, scoring a close decision.
The timing on his doubles has always been impeccable, and I think he'll get that timing back in the cage soon enough. I think GSP will keep this one standing a lot more than a lot of people think; while keeping the takedown threat implied, for as long as he can, to get Bisping's hands a bit down, and him a bit thinking. And while Bisping will think, GSP will hit him. I don't see wrestling and ground and pound as the main game-plan for St. Pierre for the first two rounds at-least. As for Bisping, he pretty much got here by out-lasting and out-hustling, not out-gunning.
Speaking about ring rust I wonder if Bisping not fighting in 13 months will give him a small bit of rust himself. The thing that gets me is that he didn't look great against 46 year old Dan Henderson in that last fight...Is 4 years off worse than 4 extra years of being punched and kicked in the dome? I don't know, figure you could make an argument for either side. Four years of professional fighting milage is a rough road to travel. GSP was always about speed and timing. Carrying around that much more weight means won't be as quick. You also lose speed as you age, and four years of ring rust is going to fuck with anyone's timing.
St-Pierre has been training every day since his layoff. I think he's the "best" GSP ever, and wouldn't come back if he wasn't. There's an outside chance of Bisping stopping "GSP" through accumulation of strikes, but not even four years out of the cage is enough to convince me that St-Pierre's cardio won't be on-point as always.
Whatever you decide to do, be sure to join us on Saturday for our LIVE coverage. Indeed, BetonCombat.com will deliver LIVE round-by-round, blow-by-blow coverage of the entire UFC 217 fight card, starting with the Fight Pass "Prelims" matches online, which are scheduled to begin at 6:30 p.m. ET, then the remaining undercard balance on FOX Sports 1 at 8 p.m. ET, before the pay-per-view (PPV) main card start time at 10 p.m. ET.
Stake: 7%
Prediction
| | | |
| --- | --- | --- |
| Michael Bisping | vs. | Georges St. Pierre |
| -110 | Odds | -105 |
| 52.4% | Market % | 51.2% |
| 35.00% | Bet on Combat % | 65.00% |
| -17.4% | Inefficiency % | +13.8% |
Georges St-Pierre - Straight Bet
Odds:
-105
Risk:
$25000.00
To Win:
$23809.52
Outcome:
Win
Outcome:
Georges St-Pierre defeats Michael Bisping via Submission (rear-naked choke) at 4:20 of round 3.
In all honesty, I was convinced of what many others thought when they heard that St-Pierre, the former longtime UFC welterweight champion, was coming out of retirement to meet then-middleweight champ Michael Bisping at UFC 217. GSP sensed a vulnerable champ, one he could defeat even as an undersized 185-pounder.
The unknown is what is so fascinating about fights and what's so nerve wracking for fighters. It's why trash talk works. When a fighter is confident that they're going to win and they can project that confidence on an anxious opponent it can have a real impact on the outcome. But the truth is, one of the reasons why fighting is so compelling is because you never really know what's going to happen until the fight actually takes place. No one really knew that Conor McGregor was going to separate Jose Aldo from his consciousness just 13 seconds into their world title fight, but if you listened to Conor talk leading up to the fight he made an incredibly convincing argument that would be exactly what would happen, and ultimately he was right. That dynamic and agressive trash talk likely had a real effect on Jose's mindset leading into the bout, and very likely had an affect on the outcome.
I love the unknown aspect of fighting almost as much as I love spectacular, dominant performances like GSP's Saturday night. The unknown is what keeps me intrigued but it's great athlete like GSP facing the unknown head on and emerging victorious that makes me a bigger fan of the sport with each passing event. Congratulations to my fellow French Canadian Georges St-Pierre for an amazing performance.
Win
Straight Bet
Cody Garbrandt (-140)
Cody Garbrandt vs. T.J. Dillashaw
Breakdown
Cody Garbrandt vs. T.J Dillashaw
Stake: 3%
Prediction
| | | |
| --- | --- | --- |
| Cody Garbrandt | vs. | T.J. Dillashaw |
| -140 | Odds | +120 |
| 58.3% | Market % | 45.5% |
| 70.00% | Bet on Combat % | 30.00% |
| +11.7% | Inefficiency % | -15.5% |
Cody Garbrandt - Straight Bet
Odds:
-140
Risk:
$5000.00
To Win:
$3571.43
Outcome:
Loss
Outcome:
TJ Dillashaw defeats Cody Garbrandt via KO (punches) at 2:41 of round 2.
Loss