UFC 194: Aldo vs. McGregor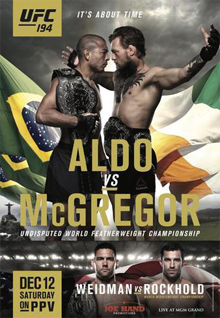 | | |
| --- | --- |
| Sport: | MMA |
| Promotion: | UFC |
| Date: | Dec. 12, 2015 |
| Venue: | MGM Grand Garden Arena |
| City: | Las Vegas, Nevada, United States |
| Broadcast: | |
Parlay Bet
Max Holloway (-500) Yoel Romero (+130) - (+177)
Max Holloway vs. Jeremy Stephens (UFC 194: Aldo vs. McGregor)
Kevin Lee vs. Leonardo Santos (UFC 194: Aldo vs. McGregor)
Breakdown
Yoel Romero vs Jacare Souza
Jacare is a great fighter but I can't see him being able to handle the speed and power of Romero. Plus the top game of Romero is nasty so I can see him neutralizing the BJJ of Jacare. Romero by TKO.
Max Holloway vs Jeremy Stephens
This fight will totally play out on the feet and I can't see Stephens winning because Holloway is the more technical and diverse striker. Holloway will out strike him on a consistent basis and win a decision.
Stake: 6%
Prediction
Max Holloway (-500) Yoel Romero (+130) - Parlay Bet
Odds:
+177
Risk:
$6000.00
To Win:
$10620.00
Outcome:
Win
Outcome:
Max Holloway defeats Jeremy Stephens via Decision (unanimous) (30-27, 30-27, 29-28).
Yoel Romero defeats Ronaldo Souza via Decision (split) (29-27, 28-29, 29-28).
Win
Straight Bet
Conor McGregor (+140)
Jose Aldo vs. Conor McGregor
Breakdown
Conor McGregor vs Jose Aldo
McGregor is much longer with better hands so it's hard to imagine Aldo being able to counter or get inside easy. Aldo has also been tagged by lesser strikers like Mendes and Zombie which won't bode well vs a powerful striker like McGregor. McGregor should be able to push the pace and drive Aldo back and when he does this his feints and movement will avoid counters so he can find openings to land and end Aldo via TKO.
Stake: 10%
Prediction
| | | |
| --- | --- | --- |
| Jose Aldo | vs. | Conor McGregor |
| -145 | Odds | +135 |
| 59.2% | Market % | 42.6% |
| 30.00% | Bet on Combat % | 70.00% |
| -29.2% | Inefficiency % | +27.4% |
Conor McGregor - Straight Bet
Odds:
+140
Risk:
$100000.00
To Win:
$140000.00
Outcome:
Win
Outcome:
Conor McGregor defeats Jose Aldo via KO (Punch) at 0:13 of Round 1.
UFC 194: Aldo vs. McGregor took place Dec. 12, 2015 at the MGM Grand Garden Arena in Las Vegas, Nev. UFC featherweight champion Jose Aldo (25-1) looked to defend his title once again against UFC interim featherweight champion Conor McGregor (18-2-0) in the night's main event, which aired live on pay-per-view. Catch the video highlights above.
In a quick finish, McGregor lived up to the hype. Just like McGregor, I believe timing beats speed just like technique beats strength.
Aldo came forward with a right hand to the body, and followed it up with a left hook. As he threw the second punch, McGregor countered with a left hand that connected clean and knocks Aldo out. McGregor was crowned the new champion after just 13 seconds of work.
There's nothing to analyze here. That's all that happened. Aldo says a rematch is necessary since there was no real fight to speak of. How will the rematch play out? Pretty much the same I believe.
Win
Straight Bet
Chris Weidman (-125)
Chris Weidman vs. Luke Rockhold
Breakdown
Chris Weidman vs Luke Rockhold
I think Weidman will back him down and push him into the pocket where Rockhold isn't as good as Weidman is because Rockhold doesn't have as good boxing as Weidman. This fight will mostly happen in close and Rockhold just isn't that comfortable when he has to let his hands go. Weidman wins via decision.
Stake: 3%
Prediction
| | | |
| --- | --- | --- |
| Chris Weidman | vs. | Luke Rockhold |
| -125 | Odds | +140 |
| 55.6% | Market % | 41.7% |
| 60.00% | Bet on Combat % | 40.00% |
| +4.4% | Inefficiency % | -1.7% |
Chris Weidman - Straight Bet
Odds:
-125
Risk:
$1500.00
To Win:
$1200.00
Outcome:
Loss
Outcome:
Luke Rockhold defeats Chris Weidman via TKO (punches) at 3:12 of round 4.
Loss