UFC 191: Johnson vs. Dodson 2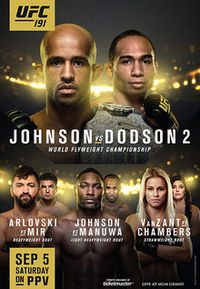 | | |
| --- | --- |
| Sport: | MMA |
| Promotion: | UFC |
| Date: | Sept. 5, 2015 |
| Venue: | MGM Grand Garden Arena |
| City: | Las Vegas, Nevada, United States |
| Broadcast: | |
Parlay Bet
Demetrious Johnson (-445) Anthony Johnson (-461) Paige VanZant (-1250) - (-164)
Demetrious Johnson vs. John Dodson (UFC 191: Johnson vs. Dodson 2)
Paige VanZant vs. Alex Chambers (UFC 191: Johnson vs. Dodson 2)
Anthony Johnson vs. Jimi Manuwa (UFC 191: Johnson vs. Dodson 2)
Breakdown
Demetrious Johnson vs John Dodson
Johnson is just a superior MMA fighter who can transition from distance, clinch, and the ground. Johnson will show case his skill set once again and pick Dodson apart.
Anthony Johnson vs Jimi Manuwa
Rumble owns almost every advantage I can think of in this fight. Rumble is too scary right now at 205 and Manuwa is not on his level any where in this fight. Rumble wins via KO.
Paige VanZant vs Alex Chambers
VanZant is more athletic and dynamic with her MMA game and I don't see this one being close. VanZant wins a dominant decision.
Stake: 5%
Prediction
Demetrious Johnson (-445) Anthony Johnson (-461) Paige VanZant (-1250) - Parlay Bet
Odds:
-164
Risk:
$5000.00
To Win:
$3048.78
Outcome:
Win
Outcome:
Demetrious Johnson defeats John Dodson via unanimous decision (49-46, 49-46, 50-45).
Anthony Johnson defeats Jimi Manuwa via KO (punches) at 28 seconds of Round 2.
Paige VanZant defeats Alex Chambers via submission (armbar) at 1:01 of Round 3.
Win
Straight Bet
Paul Felder (-250)
Paul Felder vs. Ross Pearson
Prediction
| | | |
| --- | --- | --- |
| Paul Felder | vs. | Ross Pearson |
| -250 | Odds | +195 |
| 71.4% | Market % | 33.9% |
| 70.00% | Bet on Combat % | 30.00% |
| -1.4% | Inefficiency % | -3.9% |
Paul Felder - Straight Bet
Odds:
-250
Risk:
$2500.00
To Win:
$1000.00
Outcome:
Loss
Outcome:
Ross Pearson def. Paul Felder via split decision (28-29, 30-27, 29-28)
Loss