UFC 183: Silva vs. Diaz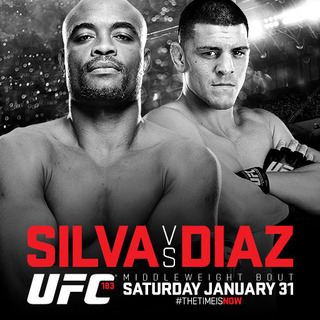 | | |
| --- | --- |
| Sport: | MMA |
| Promotion: | UFC |
| Date: | Jan. 31, 2015 |
| Venue: | MGM Grand Garden Arena |
| City: | Las Vegas, Nevada, USA |
| Broadcast: | Pay-Per-View |
Parlay Bet
Anderson Silva (-350) Thales Leites (-350) - (-157)
Thales Leites vs. Tim Boetsch (UFC 183: Silva vs. Diaz)
Anderson Silva vs. Nick Diaz (UFC 183: Silva vs. Diaz)
Breakdown
Anderson Silva vs Nick Diaz
Diaz is just a volume striker with no power and not having any power I don't see how he can win this fight because he is not gonna out strike Silva on the feet because Silva is the better striker of the two. Silva only real chance of losing is to guys who can throw power strikes and that is not Diaz. I have Silva winning a unanimous decision.
Thales Leites vs Tim Boestch
Bad match up for Boestch. Leites is the better striker of the two and if it went to the ground Leites also has the edge there. I see Leites out wrestling, striking, and controlling Boestch to win a decision.
Stake:
Prediction
Anderson Silva (-350) Thales Leites (-350) - Parlay Bet
Odds:
-157
Risk:
$2500.00
To Win:
$1632.65
Outcome:
Win
Outcome:
Anderson Silva defeats Nick Diaz. / No Contest (overturned).
Thales Leites defeats Tim Boetsch via Technical Submission (arm-triangle choke) at 3:45 of round 2.
Win
Straight Bet
Anderson Silva (-350)
Anderson Silva vs. Nick Diaz
Breakdown
It's a mismatch. Anderson Silva will be too big and fast with his precision striking. I know some have wondered if Anderson Silva is losing motivation for the sport. He has been around a very long time and he hasn't just participated, he has been on the top for years. I believe we are going to see a great Anderson in this fight. Following those last two fights, he wouldn't want to come back and not prove something. I believe he will come back stronger and more focused than we have seen in some time. He is already so skilled that he has made a career of making tough fights look easy.
Prediction
| | | |
| --- | --- | --- |
| Anderson Silva | vs. | Nick Diaz |
| -350 | Odds | +300 |
| 77.8% | Market % | 25.0% |
| 75.00% | Bet on Combat % | 25.00% |
| -2.8% | Inefficiency % | 0.0% |
Anderson Silva - Straight Bet
Odds:
-350
Risk:
$15500.00
To Win:
$4428.57
Outcome:
Win
Outcome:
Anderson Silva defeat Nick Diaz by Unanimous decision.
Win