UFC 182: Jones vs. Cormier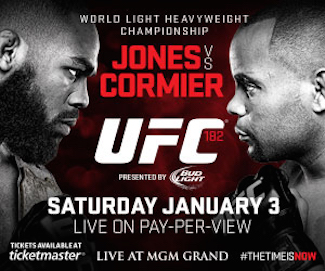 | | |
| --- | --- |
| Sport: | MMA |
| Promotion: | UFC |
| Date: | Jan. 3, 2015 |
| Venue: | MGM Grand Garden Arena |
| City: | Las Vegas, Nevada |
| Broadcast: | PPV |
Straight Bet
Jon Jones (-160)
Jon Jones vs. Daniel Cormier
Breakdown
Jon Jones vs Daniel Cormier
Jones has more ways to win this fight and is just better all around in the facets of MMA. Even if Cormier was able to get him down he won't be able to hold him there. Cormier is good in the clinch but Jones is better than him in the clinch and it's gonna be hard to overcome a 12 inch reach disadvantage for Cormier. Jones takes this fight and wins via unanimous decision.
Jon Jones has a 12 inch reach advantage over Daniel Cormier. He has been fighting the best light heavyweights in the world for years now and is essentially undefeated outside of one DQ loss. He has shown tremendous striking and submission ability and his wrestling is very good too. Cormier is a very good fighter as well, and is very strong, but he is not proven at 205lbs. He beat Dan Henderson and Patrick Cummins, but neither fighter is as good as Jones is.
We believe Jones will win this beat. We believe his reach advantage will be too much for Cormier to overcome, as we believe Jones will be able to keep away from Cormier's takedowns and use his striking to defeated him. It should be a very good fight, but we like Jones for a bet this weekend.
Stake: 10%
Prediction
| | | |
| --- | --- | --- |
| Jon Jones | vs. | Daniel Cormier |
| -160 | Odds | +150 |
| 61.5% | Market % | 40.0% |
| 65.00% | Bet on Combat % | 35.00% |
| +3.5% | Inefficiency % | -5.0% |
Jon Jones - Straight Bet
Odds:
-160
Risk:
$32000.00
To Win:
$20000.00
Outcome:
Win
Outcome:
Jon Jones defeats Daniel Cormier via Decision (unanimous) (49–46, 49–46, 49–46).
Win