UFC 146: dos Santos vs. Mir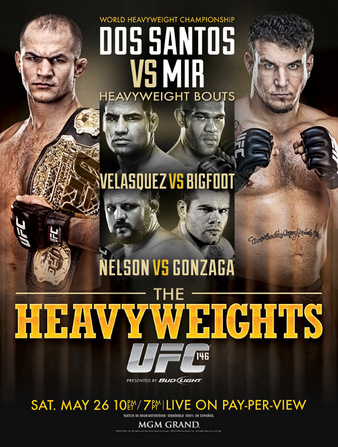 | | |
| --- | --- |
| Sport: | MMA |
| Promotion: | UFC |
| Date: | May 26, 2012 |
| Venue: | MGM Grand Garden Arena |
| City: | Las Vegas, Nevada |
| Broadcast: | Pay-Per-View |
Parlay Bet
Junior dos Santos (-475) Roy Nelson (-165) - (-106)
Roy Nelson vs. Dave Herman (UFC 146: dos Santos vs. Mir)
Junior dos Santos vs. Frank Mir (UFC 146: dos Santos vs. Mir)
Breakdown
Junior Dos Santos vs. Frank Mir
Dos Santos has the advantage on the feet and no way do I think Mir can hang with him striking. Dos Santos is a big dude and it will not be easy to get him down. I see Dos Santos fighting off any take down attempt and lighting Mir up on the feet to win by TKO.
Roy Nelson vs. Dave Herman
I don't think Herman is a talented fighter. Nelson can win this fight any where it goes because I believe he has better stand up and his wrestling and ground game is better. I can see Nelson knocking him out on the feet or taking him down and pounding him out with strikes or a possible submission. Most likely Nelson KO him on the feet.
Stake: 3.5%
Prediction
Junior dos Santos (-475) Roy Nelson (-165) - Parlay Bet
Odds:
-106
Risk:
$3500.00
To Win:
$3301.89
Outcome:
Win
Outcome:
Junior dos Santos defeats Frank Mir via TKO (punches) at 3:04 of round 2.
Roy Nelson defeats Dave Herman KO (punch) at 0:51 of round 1.
Win