UFC 129: St-Pierre vs. Shields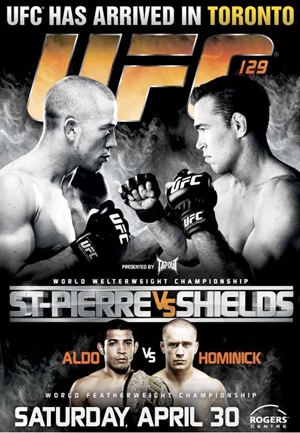 | | |
| --- | --- |
| Sport: | MMA |
| Promotion: | UFC |
| Date: | April 30, 2011 |
| Venue: | Rogers Centre |
| City: | Toronto |
| Broadcast: | PPV |
Parlay Bet
Georges St-Pierre (-450) Jose Aldo (-400) - (-192)
Jose Aldo vs. Mark Hominick (UFC 129: St-Pierre vs. Shields)
Georges St. Pierre vs. Jake Shields (UFC 129: St-Pierre vs. Shields)
Breakdown
Georges St Pierre vs. Jake Shields
St Pierre is just the better all around fighter. Shields is a great grappler but his stand up is no where near the level of St. Pierre and I see St. Pierre destroying Shields on the feet and winning by TKO.
Jose Aldo vs. Mark Hominick
Hominick fighting for the featherweight title just shows how shallow the featherweight division is. Hominick is a good fighter but he is not a elite mixed martial artist like Aldo and I see Aldo beating him convincingly.
Stake:
Prediction
Georges St-Pierre (-450) Jose Aldo (-400) - Parlay Bet
Odds:
-192
Risk:
$15000.00
To Win:
$7812.50
Outcome:
Win
Outcome:
Georges St-Pierre defeats Jake Shield via Decision (unanimous) (50–45, 48–47, 48–47).
Jose Aldo defeats Mark Hominick via Decision (unanimous) (48–45, 48–46, 49–46).
Win