UFC 117: Silva vs. Sonnen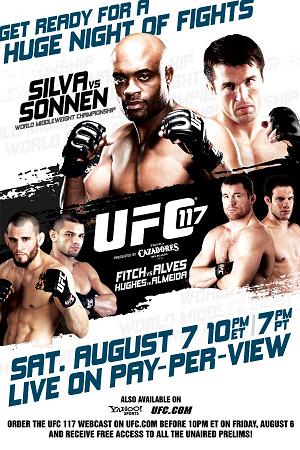 | | |
| --- | --- |
| Sport: | MMA |
| Promotion: | UFC |
| Date: | Aug. 7, 2010 |
| Venue: | Oracle Arena |
| City: | Oakland, California, |
| Broadcast: | Pay-Per-View |
Parlay Bet
Anderson Silva Junior dos Santos - (-175)
Junior dos Santos vs. Roy Nelson (UFC 117: Silva vs. Sonnen)
Anderson Silva vs. Chael Sonnen (UFC 117: Silva vs. Sonnen)
Breakdown
Anderson Silva vs. Chael Sonnen
It is just hard for me to see how Chael can win this matchup. Chael is gonna have to avoid being knocked out and submitted through out the fight and in the process inflict damage him self. I can't see Sonnen grinding away at Silva for 25 minutes and doesn't get caught.
Junior Dos Santos vs. Roy Nelson
I think Nelson will make this a good fight but it will be one sided in Junior's favor. Nelson won't be able to get Junior down and if he did he can't hold him there. Santos will land a bomb on Nelson and win via KO.
Stake:
Prediction
Anderson Silva Junior dos Santos - Parlay Bet
Odds:
-175
Risk:
$3500.00
To Win:
$2000.00
Outcome:
Win
Outcome:
Anderson Silva defeats Chael Sonnen via submission (triangle armbar) at 3:10 of round 5.
Junior dos Santos defeats Roy Nelson via Decision (unanimous) (30–26, 30–27, 30–27).
Win