UFC 104: Machida vs. Shogun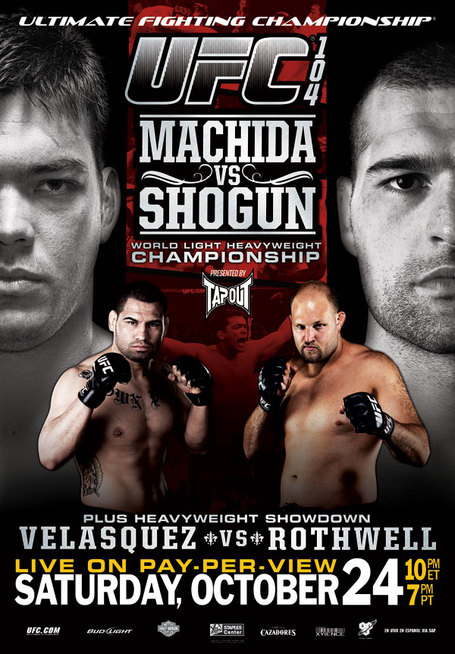 | | |
| --- | --- |
| Sport: | MMA |
| Promotion: | UFC |
| Date: | Oct. 24, 2009 |
| Venue: | Staples Center |
| City: | Los Angeles, California |
| Broadcast: | Pay-Per-View |
Parlay Bet
Lyoto Machida (-400) Cain Velasquez (-325) Anthony Johnson (-320) - (+115)
Cain Velasquez vs. Ben Rothwell (UFC 104: Machida vs. Shogun)
Lyoto Machida vs. Mauricio Rua (UFC 104: Machida vs. Shogun)
Anthony Johnson vs. Yoshiyuki Yoshida (UFC 104: Machida vs. Shogun)
Breakdown
Lyoto Machida vs. Mauricio Shogun
I don't see this being really close at all. The chances Shogun can finish the fight and win the majority of rounds is slim. Machida will just be too much in the fight and should finish him.
Cain Velasquez vs. Ben Rothwell
Rothwell has a punchers chance vs Velasquez but I think Cain is just too skilled and smart to make any big mistakes. Cain is just too athletic for Rothwell and will run circles around him. Cain by TKO.
Anthony Johnson vs. Yoshiyuki Yoshida
I would give Johnson the speed, strength, size, athleticism, power, and striking advantages. His opponent Yoshida is very limited in skills and Johnson should win by KO.
Stake: 4%
Prediction
Lyoto Machida (-400) Cain Velasquez (-325) Anthony Johnson (-320) - Parlay Bet
Odds:
+115
Risk:
$4000.00
To Win:
$4600.00
Outcome:
Win
Outcome:
Lyoto Machida defeats Mauricio Rua via Decision (unanimous) (48–47, 48–47, 48–47).
Cain Velasquez defeats Ben Rothwell via TKO (punches) at 0:58 of round 2.
Anthony Johnson defeats Yoshiyuki Yoshida via TKO (punches) at 0:41 of round 1.
Win