UFC 101: Declaration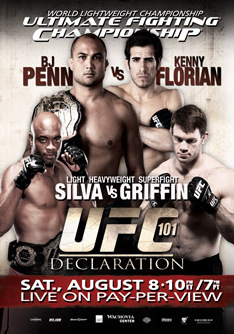 | | |
| --- | --- |
| Sport: | MMA |
| Promotion: | UFC |
| Date: | Aug. 8, 2009 |
| Venue: | Wachovia Center |
| City: | Philadelphia, Pennsylvania |
| Broadcast: | Pay-Per-View |
Parlay Bet
Anderson Silva (-315) Johny Hendricks (-125) - (+137)
Johny Hendricks vs. Amir Sadollah (UFC 101: Declaration)
Anderson Silva vs. Forrest Griffin (UFC 101: Declaration)
Breakdown
Anderson Silva vs. Forrest Griffin
He can't out strike Silva and for Griffin to take Silva down and ground n pound him won't happen either. Just can't see how Griffin wins this fight because he has no edge anywhere vs Silva.
Johny Hendricks vs Amir Sadollah
Gotta go with the athleticism and power of Hendricks here. His wrestling should score some takedowns as well and vs this BJJ artist Hendricks should find himself in trouble.
Stake: 4%
Prediction
Anderson Silva (-315) Johny Hendricks (-125) - Parlay Bet
Odds:
+137
Risk:
$3650.00
To Win:
$5000.50
Outcome:
Win
Outcome:
Anderson Silva defeats Forrest Griffin via KO (punch) at 3:23 of round 1.
Johny Hendricks defeats Amir Sadollah via TKO (punches) at 0:29 of round 1.
Win