Glory 19: Virginia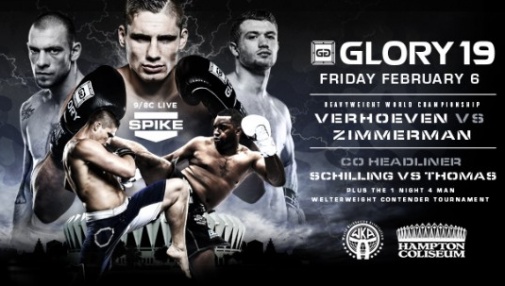 | | |
| --- | --- |
| Sport: | Kickboxing |
| Promotion: | Glory |
| Date: | Feb. 6, 2015 |
| Venue: | Hampton Coliseum |
| City: | Hampton, Virginia |
| Broadcast: | Spike |
Parlay Bet
Joe Shilling (-500) Raymond Daniels (-270) - (-155)
Raymond Daniels vs. Jonathan Oliveira (Glory 19: Virginia)
Joe Schilling vs. Robert Thomas (Glory 19: Virginia)
Breakdown
Joe Schilling vs Robert Thomas
Schilling is a kickboxing world champion and his power and strength behind his shot are very powerful and I see him landing those power shots to eventually KO Thomas here. Schilling is just too powerful and accurate with his shots.
Raymond Daniels vs Jonathan Oliveira
The sport karate of Daniels is very hard to deal with all the crazy angles and power shots that are thrown from all types of directions. The sport karate style of Daniels will be too much for Oliveira and I see Daniels landing some big shots to eventually win by TKO.
Stake: 3%
Prediction
Joe Shilling (-500) Raymond Daniels (-270) - Parlay Bet
Odds:
-155
Risk:
$3100.00
To Win:
$2000.00
Outcome:
Win
Outcome:
Joe Schilling defeats Robert Thomas via
Raymond Daniels defeats Jonatan Oliveira via
Win