Bellator 133: Shlemenko vs. Manhoef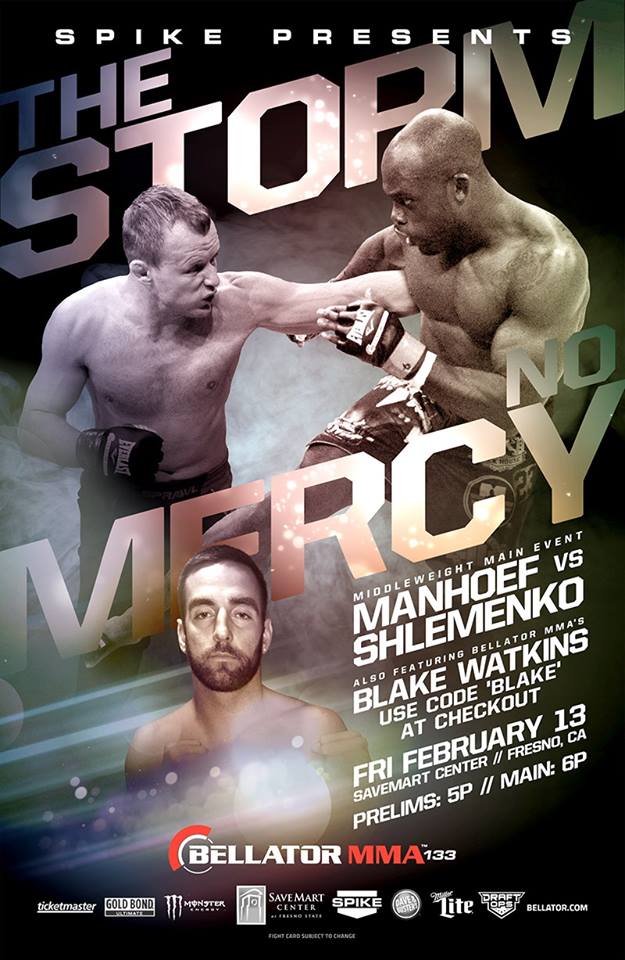 | | |
| --- | --- |
| Sport: | MMA |
| Promotion: | Bellator |
| Date: | Feb. 13, 2015 |
| Venue: | Save Mart Center |
| City: | Fresno, California |
| Broadcast: | Spike TV |
Parlay Bet
Alexander Shlemenko (-190) Julia Budd vs. Gabrielle Halloway Fight Goes Over 2.5 Rounds (-125) - (+175)
Alexander Shlemenko vs. Melvin Manhoef (Bellator 133: Shlemenko vs. Manhoef)
Breakdown
Alexander Shlemenko vs Melvin Manhoef
Shlemenko is the more devastating striker in my opinion and he can definitely strike better than Manhoef. Manhoef may have the power edge but I see Shlemenko avoiding the power shots from Manhoef and eventually knocking out Manhoef with his more slick striking.
Julia Budd vs Gabrielle Halloway
It is a woman fight so this is most likely going the distance since I am not impressed with the finishing skills of both fighters here. Halloway is taking this fight on short notice so both really won't have a set game plan in and it will take a while in the fight before they figure one another out so the over 2.5 rounds is the smart play here.
Stake: 3%
Prediction
Alexander Shlemenko (-190) Julia Budd vs. Gabrielle Halloway Fight Goes Over 2.5 Rounds (-125) - Parlay Bet
Odds:
+175
Risk:
$3000.00
To Win:
$5242.11
Outcome:
Win
Outcome:
Alexander Shlemenko defeats Melvin Manhof via KO.
Julia Budd defeats Gabrielle Halloway via uninimous decision.
Win