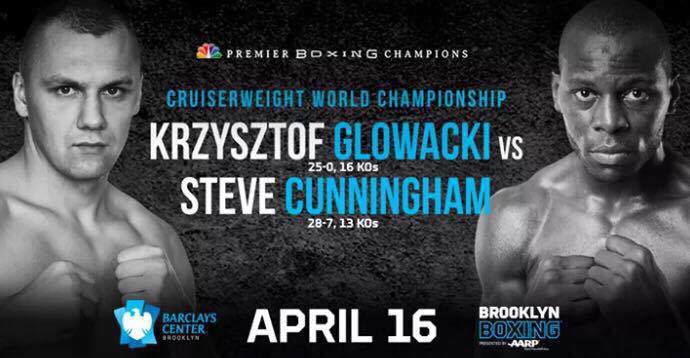 Premier Boxing Champions (PBC) has an interesting card scheduled for Saturday, April 16, 2016 at the Barclays Center in Brooklyn, New York. The televised portion of the card features two bouts. In a welterweight fight, hot prospect and former Olympian Errol Spence takes on tough spoiler and former WBO Super Lightweight champion Chris Algieri in a meaningful bout.
Spence is a big favorite and while Algieri has shown he can stand in there with some real iron, I don't think he gets past Spence. Spence hits too hard and I see him as a burgeoning talent. Algieri can move and be frustrating but his lack of pop will be his downfall. I'm expecting a Spence win. The question for me is can he win by KO? Many of you will recall that Algieri showed durability in nipping the title from bruiser Ruslan Provodikov and he surprised many that he went the route with the great Manny Pacquiao in late 2014.
The fight that really interests me for wagering purposes on this card is the Krzysztof Glowacki vs. Steve Cunningham WBO cruiserweight fight. Cunningham is a former cruiserweight world champion that has been campaigning as a heavyweight over the past few years. Cunningham has shown grit, toughness, conditioning and skill as a fighter.
He has crawled of the deck on many occasions to pull out victories. And he has proven to be very hard to stop. Only current heavyweight champion Tyson Fury was able to end Cunningham's night inside the distance. And that was not before a scare of his own, when Cunningham dropped Fury hard early in that fight.
Glowacki is a Polish fighter that is undefeated but was largely unknown when he challenged Marco Huck for the WBO cruiserweight championship back in August, 2015. Huck was heavily favored and hadn't lost a cruiserweight fight since 2007, when the same Steve Cunningham stopped him the 12th round of their bout.
No one gave Glowacki much of a chance against the dominant Huck. But the southpaw Glowacki came to fight and troubled Huck at the outset. But Huck nearly had a stoppage in the 6th round as he dropped Glowacki with a bomb that appeared to be the end. But Glowacki was undeterred and went back to work. Finally in the 11th round, Glowacki struck with a vengeance and scored a brutal stoppage win on Huck.
Glowacki vs. Cunningham opened up at nearly even money but a trickle seems to coming in the Polish fighter which has titled him as the favorite. Cunningham is never an easy out and he will never give up. But I like Glowacki in their fight. Glowacki is only 25 years old to Cunningham' near 40 and he is a strong, skilled and hard hitting southpaw.
As I've observed Cunningham over the years, he has had notorious struggles with lefties. And Cunningham, who has a physique that looks like it was carved out marble, is not a particularly brutal puncher. And he does have a propensity to get dropped by sharp left crosses. Glowacki has can crack well with the right hook and left cross. He has good form and speed to get his money shots home. I'm going with Glowacki to defend his title with the win. I think he'll do it by stoppage late in the fight.