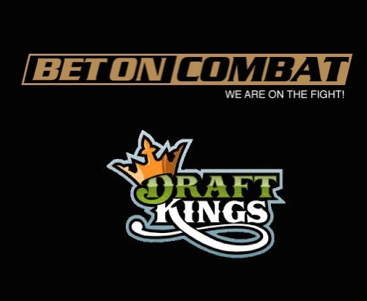 St-John's, Antigua, Jannuary 1, 2016 — Bet on Combat and DraftKings are partnering up to offer you the best in Fantasy MMA. The alliance will make Draftkings the Official Fantasy Gaming Partner of Bet on Combat. The partnership comprises a promotional marketing agreement that incorporates branded content on the BetonCombat.com site, social media promotions, and digital campaigns integration promoting the Draftkings brand.
"Fantasy sports is a rapidly expanding market and we are very excited to be a part of it," said Bet on Combat Founder Franco Richard. "Fantasy games have the ability to boost fan interest and engagement, and we couldn't have picked a better partner in this space than Draftkings."
Draftkings branded content will be featured on the BetonCombat.com website. For each Bellator live event broadcast, MMA and fantasy sports fans can participate in the $10K Fantasy tournament where players will compete for their share of $10,000 in real cash.
For each and every UFC card head over to DraftKings and take part in the best Fantasy MMA contest on the internet. In addition, we're proud to introduce one of the best Fantasy MMA player, Richard Rider better known as RickyRider. During 2016, Richard will give us his expert insight on the major Draftkings Fantasy tournaments and give us exclusive information on the fighters and the Draftking games in general.
If you haven't played Draftkings before, you are missing out. It's very easy to play. Just go to Draftings.com, read the instructions, and try your hand at winning some free cash just by picking fights.
Draftkings is the big dog in cash pay outs for fantasy mma it is a must play for fantasy, their rules are simple:
At Draftkings you build a team of five fighters utilizing a "salary cap" of $50,000 in fantasy money to spend on drafting the team you expect to perform the best on fight night. If your team performs well enough, you will likely have a share of cash prizes in any number of Draftkings games. Points are scored with significant strikes, advances, takedowns, reversal/sweep, knockdowns. The more dominant your fighters performance is the more points you're going to score. For a detailed breakdown of how the scoring works here is a link www.draftkings.com/help/mma. The most important key to putting together a winning Fantasy MMA lineup is, understanding the true value of win bonuses. When you are selecting your fighters, always make sure to take fighters you believe will win the fight. At the end of the contest, those win bonuses add up and they separate the contest winners from the losers.
1. 50k salary cap
2.You pick 5 fighters. Values are based on favorite/underdog mostly.
3. Earn points and (try to) win money.
Points are earned for significant strikes, takedowns, submission attempts, dominant positions maintained, rounds won and for finishing (ranging from 100 points for a 1st round finish to 50 points for a 3rd round or later finish.
For each and every UFC card head over to DraftKings and take part in the best Fantasy MMA contest on the internet. To hear Richard Rider' Draftkings Fantasy Of The Week, tuned right here in the News section of this website.
What are you waiting for? Sign up today.
About Bet on Combat
Bet on Combat™ is a fast growing online gaming venture founded in 2000 by French Canadian entrepreneur Franco Richard also known as Francombat. Headquartered in the Caribbean nation of Antigua, Bet on Combat™ was first established in Taiwan as a combat sports betting consulting firm, where members were advised concerning who to bet on and how to bet them, similar to your stock broker advising you on which stock or fund to invest your money in.
About Draftkings
DraftKings is a Boston, MA, daily fantasy sports contest provider. The company allows users to enter daily and weekly fantasy sports-related contests and earn money based on individual player performances in five major American sports (MLB, the NHL, the NFL, the NBA and the PGA), Premier League and UEFA Champions League soccer, NASCAR auto racing, Mixed Martial Arts (MMA), as well as American college football and college basketball.