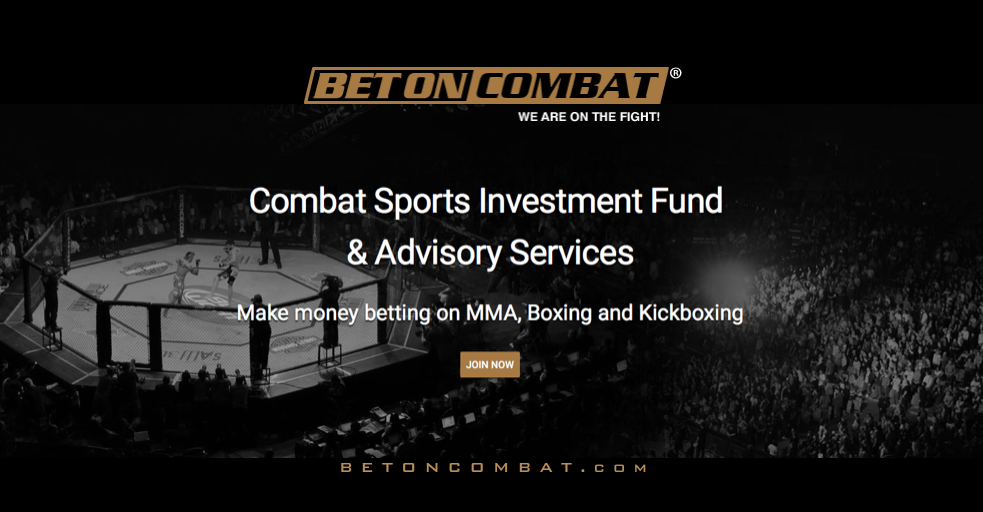 Wouldn't you like to know who the big winners are going to be this upcoming fight event? We can tell you. Want to make money off that knowledge? We can help you there, too.
Led by renowned wagering analyst and bettor Franco Richard better known as Francombat, Bet on Combat is the premier combat sports investment service in the world. Franco is so good at what he does that he's actually been banned from several casinos in Las Vegas and online sports books.
Franco and his analysts are so confident in their ability to handicap fights and maximize winnings, that they guarantee you'll make you more money in a month than the stock market in a year. BetonCombat.com recently caught up with Franco to talk about what makes Bet on Combat the leading combat sports handicapping service in the industry.
Since 2004, Bet on Combat has been delivering a specialized consultancy service to clients in the combat sports betting industry on a consistent basis, as well as gaming in general. Using the latest in statistical analysis techniques Bet on Combat's advisory board are able to derive very accurate predictions on the outcome of combat sports in many fight promotions across the world.
As a member of the Bet on Combat Advisory Service you will have access via email or phone to one of our Analysts for advice and consultation along with all predictions made for the length of the package you choose, whether it be 30, or 12 months. You will have access to 'the why' a prediction was made and the specific strategies that have made us a leading Combat Sports Analyst.
We at BetonCombat.com are more than just your typical handicappers. Honestly, that's the easiest part. We specialize in educating and consulting with our clients to build a Combat Sports Investing philosophy that is specifically catered to your needs. Please note the consultation tab on the home page, complete this form as it will allow one of the analysts to better formulate a combat sports investing strategy for you. As you can see we are not here just to give you a predicted outcome, take your money and wish you a good day. We are here to assist you in your long term journey to financial freedom through combat sports investment.
As we build relationships with our new clientele, eventually, individuals are able to invest in combat sports with the acumen of a wall street banker and have the bank accounts to match. By the end of the annual subscription you will no longer need us as your handicapper, you will not only have a significantly larger bank account but your Combat Sports Investing acumen and fight IQ will be much higher. We strongly encourage our clients not to deviate from the presented bankroll preservation plan.
We exercise strict money management and have a proven, successful Combat Sports betting track record. We are no different from a stockbroker. We are selling information; We are selling tips. Just like the stoke broker, we takes 30% commission on bets that payout. Whether you're a serious high roller or a novice bettor, we guarantee we will help you to make more money in a month than the stock market in a year.
What's keeping you from making money? Jump on the excitement and sign up today at betoncombat.com/accounts/signup and get full access to all of our Predictions released for all combat sports events for the next 30 days.