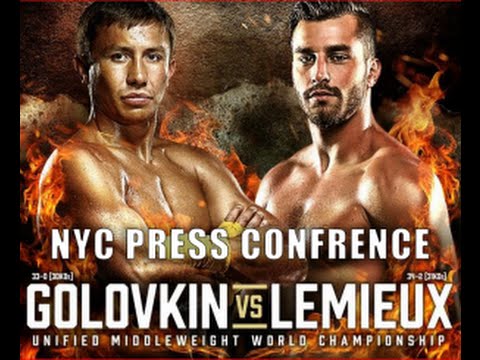 Everyone loves punchers. On October 17th in New York, boxing fans will get what they want as two middleweight champions collide in what should be a real fan's fight. David Lemieux, recently crowned IBF champion, will meet Gennady Golovkin (33-0, 30 KOs), arguably one of the most dangerous and most feared fighters on the universe.
The odds are against the younger fighter from Montreal, who is listed as a +1100 underdog according to 5Dimes. Let's face it: with a shining record of 34-2, 31 KO's, the IBF champion is very ballsy to take on pound for pound, one of the five best fighters on the planet, in his first fight as champion. Both fighters can punch, and Lemieux's speed will be very important but from a betting standpoint, the Kazakh experience in title fights and amateur record, pristine technique and, of course, monstruous power, will probably be too much to handle for the 25 year old fighter. Stamina and chin are also factors who favor Golovkin. Lemieux will try to make a statement to prove at least he is worthy of the elite, and I guess for a couple of rounds, he will hold his own, probably playing the role of boxer and starting fast. The cooler, more relaxed Golovkin will stalk, cut off the ring and bang at every opportunity, eventually wearing down his younger prey. This is no David vs Goliath here. Golovkin is a -1900 favourite and should win inside 8 rounds. By the way, the fight odds is -135 if it lasts less than 5 rounds and a half and +115 for going over than 5 1/2.
On the undercard, WBC flyweight champion Roman Gonzalez (43-0, 37 KO's), which a lot of people see as the new number one boxer in the world should meet a stiff test from ex-Olympian and former multiple champion Brian Viloria (36-4-1, 22 KO's), whose odds against are +1500. Just don't blink, the "Hawaian Punch" has seen better days but "Chocolatito" is the new flavor. Gonzalez should win by knockout. I won't be surprised if he does it inside of six rounds. Gonzalez is a -3000 favourite, which tells you about Viloria's chances.
Also, Miami-based Cuban heavyweight Luis Ortiz (22-0, 19 KO) should have no problem beating unheralded Argentian Matia Ariel Vidondo for the WBA interim title. Ortiz is a whooping -3400, compared to +1450 for Vilondo.
Tureano Johnson (18-1, 13 KO's) is the favorite at -1750 to beat feather-fisted Eamon O'Kane (14-1-1, 5 KO's), who is +1000 for the IBF #1 sport at middleweight.
Don't forget, there is also a very fight this Friday! A very good toss-up matchup between former title challenger Andrej Fonfara and former WBO light heavy titlist Nathan Cleverly (29-2, 15 KO's) will take place in Illinois. Fonfara (27-3, 16 KO's) is riding high since giving WBC champ Adonis Stevenson an unexpected scare, but Cleverly (+200) should held his own. I won't be surprised if this one is a draw, but my guess is Cleverly outboxes the Polish-based fighter by close decision which the odds are for at -240.
Good luck and have fun with your combat sports betting. For some of you who are new to the betting world, check our Betting Guide to Learn How to Bet on Fights and our Bookmakers review page for the best places to wager online.